I was relatively busy Thursday as WWE 2K15 consumed my life, so I was unable to do a Top Ten list. So, you get a Top Ten Thursday on Saturday and it's going to be of the Ten best Survivor Series Pay-Per-Views! Honorable mention goes to 2012 for being a very solid edition. No need for further introduction so...
10. Survivor Series 2011
The most recent edition of Survivor Series to make the list is the 2011 version. Yes, I used a photo of Zack Ryder, who wasn't even on the card. However, during the solid opener pitting Dolph Ziggler against John Morrison, "We Want Ryder" chants echoed throughout the arena. The chants even continued over The Rock talking. Think about that. Over The Rock! Speaking of him, he returned to the ring for the first time since 2004 by teaming with The Rock against Awesome Truth. This show also included Beth Phoenix hitting Eve with a Super Glam Slam and a solid Team Barrett vs. Team Orton Survivor Series match. Add in the MSG crowd and this was must see. Oh, and let's not forget that this was the start of CM Punk's legendary 434 day reign as WWE Champion.
9. Survivor Series 2001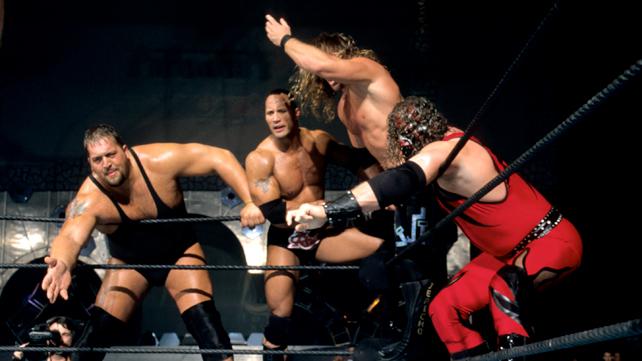 2001 was an interesting year. We had the disappointing Invasion angle that did still produce some solid in-ring work. The culmination of that angle was the 2001 event that featured a 40+ minute main event. Team WWF (The Rock, Kane, Chris Jericho, Big Show and Undertaker) defeated Team Alliance (Steve Austin, Booker T, Kurt Angle, RVD and Shane McMahon) in a really fun match. The Hardy Boyz met the Dudley Boyz in a great Steel Cage match and Test and Edge had a pretty good unification match. Also, from a historic standpoint, Trish Stratus won the first of her record seven Women's Titles. Fun show.
8. Survivor Series 1987
Sometimes, the original is damn good and that was the case with Survivor Series. The first ever inception of the Pay-Per-View featured nothing but elimination matches with the main event seeing Andre The Giant's team stand tall over Hulk Hogan's team. Heels rarely closed events on top and this would set the stage for their WrestleMania III rematch, which was the most watched televised wrestling event of all time. There was also a TWENTY MAN tag! The tag team division was great as evidenced by ten of them competing and it featured surprising survivors in The Killer Bees and The Young Stallions. Randy Savage survived his match alongside Ricky Steamboat and Jake Roberts and there was also a surprisingly good women's tag. All around solid event.
7. Survivor Series 1998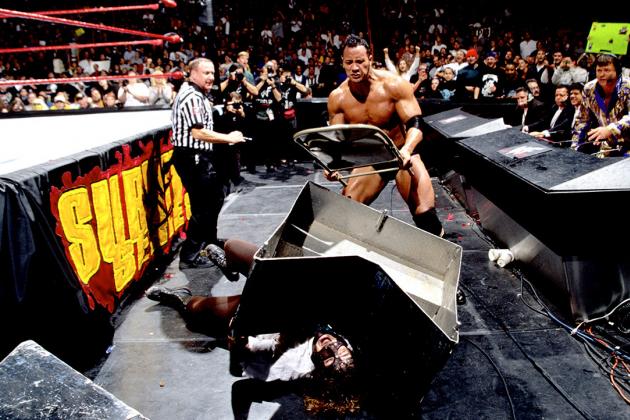 Otherwise known as the Deadly Game Tournament, this was only the second Pay-Per-View in history to feature a one night Tournament crown a new WWF Champion. The title was vacated after controversy and 14 men got the chance on this night. Now, don't get me wrong, the in ring action on this show wasn't great. Things had to be rushed due to the size of Tournament but this was the Attitude Era at it's finest. So much storyline advancement, run ins and general all around entertainment. It also featured some great swerves like Shane McMahon and The Rock turning heel. Historic show as well as it was The Rock's first WWF Title victory.
6. Survivor Series 1995
The WWF was in a rough place in 1995. They were struggling and while there were some good things, there were a lot of bad things. However, the 1995 Survivor Series was great. This was the first time that I really saw how good of a heel Bret Hart could be as he did everything possible to take the WWF Title from Diesel. The match was fantastic, featured an announce table spot and Bret winning with a small package, leading to a Diesel heel turn. The show featured a fun opening tag where the 1-2-3 Kid survived, a better than expected women's tag, the PPV debut of Goldust, and an absolutely fun Wild Card match that mixed heels on team with faces. You can check out my review of it
here!
5. Survivor Series 1992
This is one of those shows that holds a special place in my heart. It is one of three PPVs (along with Royal Rumble '92 and SummerSlam '91) that I used to rent all the time from my local video store. We get the first big match between Bret Hart and Shawn Michaels as Bret successfully defends the WWF Title against the then Intercontinental Champion. It is probably my favorite match between the two. Also, Mr. Perfect returned to the ring to team with Macho Man against Ric Flair and Razor Ramon. I enjoy the opening tag between The Headshrinkers and High Energy also. There is some crap on the card, like any match involving Nailz, but I do love this show.
4. Survivor Series 2003
The Shawn Michaels Show. Not that this is his best performance or that the show revolved around him, but if there's one thing you watch from this event, make sure it is Team Austin vs. Team Bischoff. We get one of Shawn's greatest performances ever as he fights to be the sole survivor of his team while being a bloody mess. It's phenomenal. Let's not forget the Team Angle vs. Team Lesnar match and a Shane McMahon/Kane Ambulance match that I enjoyed as I have a soft spot for Shane-O-Mac. Overall, a show that I thoroughly enjoyedl
3. Survivor Series 1989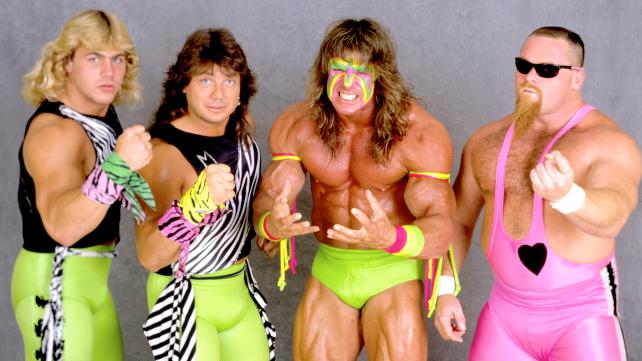 With plans to have The Ultimate Warrior battle Hulk Hogan at WrestleMania, the WWF tested Ultimate Warrior in the main event here. His team, pictured above, faced the Heenan Family in a good bout. Bobby Heenan even competed! It was great. The entire show is good as, when I reviewed it, nothing got under three stars. The King's Court vs. The 4x4's was my favorite match and it featured a rare interaction between Macho Man and Bret Hart. All give Survivor Series matches are fun and this is three hours that will fly by. A very solid show and deserving of it's high ranking.
2. Survivor Series 1996
This show has the first in the fantastic series of matches between Steve Austin and Bret Hart. These two go at it for nearly thirty minutes in a classic as Bret pulls out the win in his return. This is no one match show though. Opening things is a traditional Survivor Series match in which Doug Furnas and Phil LaFon make a name for themselves by surviving and winning over the crowd with their work. It also features the debut of Rocky Maivia and a very good bout between The Undertaker and Mankind. We haven't even gotten to the main event yet as Sid dethrones Shawn Michaels for the WWF Title in a match that must be seen for the crowd. They turn on Shawn and cheer Sid throughout. There is only one match that is skippable and everything else is excellent.
1. Survivor Series 2002
Yes, three of the top ten are Survivor Series events that took place in Madison Square Garden. This show is damn near perfect. First, you get a really fun opening six man tag tables match. Then, you move into a good Cruiserweight Title match as Billy Kidman defeats Jamie Noble. Victoria then takes the Women's Title from Trish Stratus in what might be the first or second best Women's Title match in PPV history. I should also mention that it's a Street Fight. Big Show wins the WWE Title from Brock Lesnar after Paul Heyman turns his back on Brock in a solid little match. Next came a Tag Team Title with so much talent it's insane. Kurt Angle and Chris Benoit vs. Edge and Rey Mysterio vs. Los Guerreros! Lastly, the first ever and possibly greatest ever, Elimination Chamber. Six Hall of Fame guys stepped in and Shawn Michaels emerged victorious. This is easily one of the best Pay-Per-Views of all time and the best Survivor Series ever. Watch it. Now.