Starting today, I will be bringing you a weekly top ten list based on various different topics. These will be personal top ten lists and not at all what some would call "definitive". If you disagree and have your own lists, please share in the comments section. Down the line, I will be taking requests as well. For starters, with the Survivor Series coming up, I'm going with the ten best traditional Survivor Series matches in the history of the PPV. That would mean that matches like the one from this past Monday on Raw is excluded.
10. The Bodydonnas vs. The Underdogs - 1995
Kicking things off is a match that is honestly overlooked. On a really good Survivor Series event, the show opened with a match that severely lacked star power. On the Bodydonnas team, you had Skip, Zip, Rad freaking Radford and the recently heel turned 1-2-3 Kid, while the Underdogs consisted of Marty Jannetty, Hakushi, Barry Horowitz and Bob Holly. That's not exactly a recipe for a great match. However, they managed to do their best to wow the audience and busted out some pretty impressive high flying moves. The highlight being a top rope powerbomb spot that honestly made me jump out of my seat. Considering the guys involved, it was obvious that the Kid would be the survivor in the end, but that didn't take away from my enjoyment. This is worth a look as a fun way to spend about 20 minutes.
9. The Dream Team vs. The Million Dollar Team - 1990
Not only was this a really good traditional Survivor Series match, but it also happens to be one of the most historic. Ted Dibiase's Million Dollar Team featured himself, Rhythm and Blues and a mystery partner that turned out to be the debuting Undertaker. Having him in this match made it more special because right from the start, he had a presence about him that was unmatched. You could see the reactions of some of the speechless audience members, while Undertaker was nailing each and every mannerism that he had to. The Dream Team was captained by Dusty Rhodes and featured the Hart Foundation and Koko B. Ware. Koko was eliminated quickly by the Undertaker, showing his dominance. Undertaker was gone via countout while attacking Dusty which protected him. The real gem of this match is the final few minutes when it comes down to Bret Hart and Ted Dibiase. Their exchange is pretty fantastic and was my favorite part of the entire Pay-Per-View in 1990.
8. Team Michaels vs. Team Yokozuna - 1995
We go back to 1995 for a match concept that was only executed one time. This was a "Wild Card" match, which meant that the faces and heels were mixed up. Shawn Michaels was partnered with Ahmed Johnson, British Bulldog and Sycho Sid with the latter two being heels. On Team Yokozuna, he had his partner Owen Hart, Dean Douglas and Razor Ramon, who was a face. That certainly made for an intriguing dynamic that we don't see often. Guys that were in feuds, like Razor and Dean, were on teams. It came into play when Dean got eliminated and something similar went down between Michaels and Sid. Sid ate Sweet Chin Music by mistake and Shawn kind of just shrugged. He would be the only guy eliminated from his team as well. There was a funny moment near the end as Bulldog broke up a pin for his team, seemingly forgetting that he was with them and then just celebrated with the win anyway. This was a unique match that turned out to be highly entertaining.
7. Team Foley vs. Team Ziggler - 2012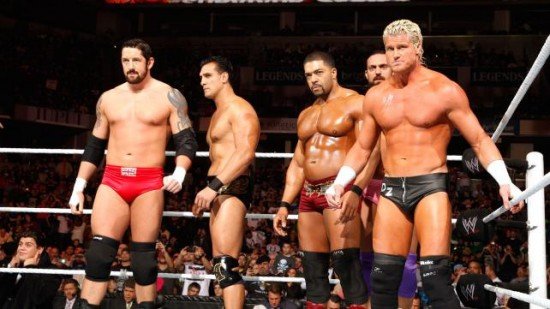 This match changed more than a few times during the build up and it was even originally set to be Team Foley vs. Team Punk. In the end, Team Ziggler featured Dolph himself, Damien Sandow, David Otunga (replacing an injured Cody Rhodes), Alberto Del Rio and Wade Barrett, while Team Foley had Randy Orton, Miz, Kofi Kingston and Team Hell No. Despite the strange build up and changes, the guys managed to deliver a really good match. The action was fast paced and it all worked well due to their chemistry with each other. In the end, Randy Orton was the last guy remaining for his team, down 2-1. He eliminated Del Rio and it came down to him against Ziggler. Ziggler picked up a big win by pinning Orton, which was the right call since he was Mr. Money in the Bank. The match had a fair amount of talent, everything made sense and it was pretty damn good.
6. Strike Force, the Young Stallions, the Fabulous Rougeaus, the Killer Bees and the British Bulldogs vs. The Hart Foundation, the Islanders, Demolition, the Bolsheviks and the Dream Team - 1987
1987 was the year of the inaugural Survivor Series Pay-Per-View event. The night was headlined by a massive match pitting Team Hulk Hogan against Team Andre the Giant. However, it was an absurdly large 20 man tag earlier in the evening that stole the show. It says something about the state of tag team wrestling in the era that there were ten legit teams that could all compete in one huge match. These weren't just any teams either as a few of these are Hall of Fame caliber. You would expect a match with so many moving parts to be a bit of a clusterfuck but that wasn't the case here. They managed to work a crisp match that went about 37 minutes, but seemed to move along quickly. The surviving teams in the end were the Killer Bees and the Young Stallions. If there is anything that you are going to watch from the first Survivor Series, I'd suggest this (though the entire show is good).
5. Team Raw vs. Team Smackdown - 2005
Following the brand split in 2002, we would go on to see plenty of incarnations of Raw vs. Smackdown tag matches. Not all took place at the Survivor Series (some being at the short lived Bragging Rights event), but this one did and it may be my favorite. Representing Raw was Shawn Michaels, Big Show, Kane, Chris Masters and Carlito while Smackdown was led by Randy Orton, Rey Mysterio, Bobby Lashley, JBL and World Champion Batista. Similar to the Wild Card match in 1995, this allowed for heels and faces to partner up, making for some interesting moments. The match was well executed where teams like Kane and Big Show worked together, we got a face to face between Masters and Lashley and it all came down to HBK. This made sense considering Michaels had a heroic comeback like performance two years earlier being down 3-1. This wasn't on the level of that night, but it followed a similar trend where Michaels eliminated two men and was left with Orton. A distraction from the already eliminated JBL allowed Orton to hit the RKO and win it for Smackdown. The most memorable thing is the Undertaker's return after the match, which is a shame because the match was really goo.
4. British Bulldog, Owen Hart and the New Rockers vs. Doug Furnas, Phil Lafon and the Godwins - 1996
Honestly, I can't recall many people talking about this when they mention the best traditional Survivor Series matches but I love this. Survivor Series 1996 is my second favorite Survivor Series event, behind only 2002. It starts with this match that I didn't have high expectations for. Doug Furnas and Phil Lafon were good but were void of personality, while Owen Hart and the British Bulldog were great. The other four guys were definite question marks. The Godwins might have had their best performance here, Leif Cassidy played his role of starting to heel it up well and Marty Jannetty did a goo job of selling and doing his part. After their efforts, the match really gets going. Furnas and Lafon go head to head with the Tag Team Champions and come out looking like stars. They busted out moves that wowed the New York crowd and survived against the champions. It never amounted to a Tag Team Title run for them, but for one night at least, a team was put over huge in the world's most famous arena.
3. Team Authority vs. Team Cena - 2014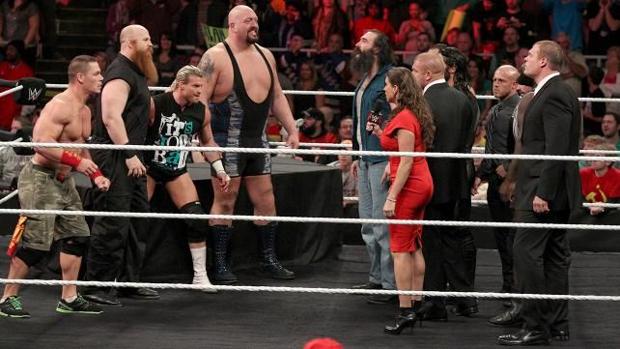 The stakes were very high coming into this main event match. The Survivor Series 2014 card seemed to lack and didn't have many matches booked. Part of the reasons was that the company was missing some top guys. Randy Orton, Roman Reigns and Sheamus were all on the shelf, while Bray Wyatt and Dean Ambrose had a singles match. That set up some strange teams. The Authority were led by Mr. Money in the Bank Seth Rollins, Kane, Mark Henry, the US Champion Rusev and a late addition, Luke Harper. John Cena struggled to find teammates because he's a terrible friend in kayfabe terms. However, he managed to get Big Show, Dolph Ziggler, Ryback and late addition Erick Rowan. Going in, I didn't expect the match to be great but dammit it was. This was overbooking done incredibly well. Big Show turned heel for the hundredth time and knocked out Cena, leading to him getting eliminated. Show then walked out, leaving Ziggler of all people in a three on one deficit. Ziggler channeled his inner Shawn Michaels in a heroic rally that saw him eliminate two men, leaving him with Seth Rollins. Triple H and J&J Security got involved, only for Sting to make his WWE debut and save the day. That was something I never expected to see, which made this match all the more special. Ziggler would pin Seth and vanquish the Authority...for about a month.
2. Team Austin vs. Team Bischoff - 2003
On Team Bischoff, you have Randy Orton, Chris Jericho, Christian, Scott Steiner and Mark Henry. On Team Austin, it's Shawn Michaels, Rob Van Dam, Booker T and the Dudley Boyz. Early on, this match followed the formula that we've come to expect from a traditional Survivor Series match most of the time. The guys that were getting eliminated early, (Scott Steiner, Mark Henry, Booker T and RVD) were given a chance to get in their stuff before going home. When it gets down to a three on on three match, the heels used shady tactics to send the Dudley Boyz home and leave Michaels alone. What happened next is how you expertly book the heroic comeback. Shawn takes a beating and does one of the better blade jobs I can remember. When he makes his comeback, it's not done in superhuman fashion. He doesn't just shrug off the damage and start taking people out. He hits Sweet Chin Music from out of nowhere and takes out Christian before using a fluke pin to get rid of Jericho. It's a desperate man on his last legs. The finish involves all kinds of shenanigans from Bischoff, Austin and then an appearance by Batista who ends up costing Shawn the match. The crowd was 100% into this and when Shawn finally can't get up in the end, the air is basically let out of the building. Extra props to Jim Ross and Jerry Lawler for their performance during all of this. It's all so well done and is one of the best Survivor Series matches of all-time.
1. Team WCW vs. Team WWF - 2001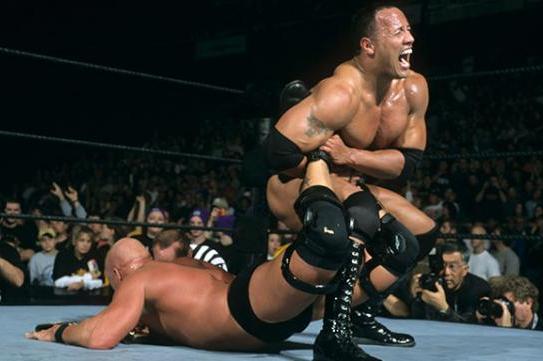 Considering how the entire Invasion angle was booked, I didn't expect this to be as great as it was. Granted, the talent was there. You had The Rock, Chris Jericho, Kane, Undertaker and Big Show on Team WWF, while Team WCW had Steve Austin, Kurt Angle, Booker T, Rob Van Dam and Shane McMahon. Okay, so not everyone there is among the best workers, but they all lent something to the match that made almost every part of it feel unique. From the finisher barrage that sent Big Show home, to Undertaker and Kane being complete badasses to Jericho attacking the Rock after he was eliminated because he's selfish to Angle turning back on WCW, this had a lot of cool moments. It was tough for me to remember this fondly due to the booking before and after, but as a standalone match, it's fantastic. The final battle between Rock and Austin was great to see and was the last we'd really get until WrestleMania XIX. Team WWF would win, obviously, in a match that made 45 minutes fly by.