This week, I'm bringing you a list that is very based on personal appeal. I've been to a fair amount of live events in my time. Multiple WWE house shows, four episodes of Raw, four NXT shows, two WWE Pay-Per-Views, two Smackdowns, an ECW event and about 15 ROH shows. What I'm going to do today is rank my favorite matches that I've seen live. This is based on personal preference of how much I enjoyed the matches live. To keep the variety, only one match per show is allowed.
10. Chris Jericho vs. Kurt Angle vs. Triple H - Raw 8/7/2000
It is pretty impossible to find any good photos of this actual match so I just chose one featuring two of the performers. Now, there are matches that I've seen live that are better than this, but this one holds a special place in my heart. I had been going to live events for about a year at this point, but this was my first ever Raw. This was in the hallowed grounds of Madison Square Garden and the winner would go on to face The Rock for the WWF Championship at SummerSlam. These three future Hall of Famers competed in a good match that featured back and forth action. This was also in the midst of the fantastic Kurt Angle/Triple H/Stephanie McMahon love triangle angle, which is a personal favorite. Add in another guy I love, Chris Jericho, and his feud with Stephanie and this all worked for me. Angle and Triple H would both pin Jericho and face the Rock in a Triple Threat match at SummerSlam that I also really enjoyed.
9. WWE Intercontinental Championship Ladder Match: Luke Harper (c) vs. Dolph Ziggler - TLCS 12/14/14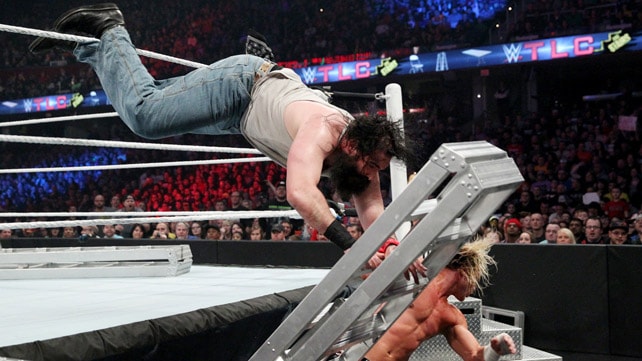 One of the more recent entries on our list kicked off the TLC Pay-Per-View at the Quicken Loans Arena in Cleveland, Ohio. Dolph Ziggler was probably the most over guy all night and he played into it wearing his Kent State hoodie. Matches like this are why I think there needs to be more done with Luke Harper. He is probably the best and most versatile big man in the company right now besides Kevin Owens. Harper and Ziggler seemed determined to try and steal the show on this night. Mission accomplished. They went out and not only had the match of the night (nothing on this trash PPV would come close), but one of the better matches in WWE all year long. I will admit that some of this seemed especially dangerous. Harper nearly broke his arm at one point and Dolph took some sick bumps. It all worked out for the best, leading to a great match.
8. ROH World Tag Team Championship: The Briscoes (c) vs. The Age of the Fall - Final Battle 12/30/07
Ah, the famous Manhattan Center. I saw all of my Ring of Honor events in that building. Let me set the stage a bit here. During this era, I was FULLY invested in ROH as a company. I had been going to their shows for a year and wasn't really interested in what the WWE was putting out, so this was where all of my focus was. The Briscoes were in the middle of a phenomenal reign as ROH Tag Team Champions. They had just set the record for longest run with the belts. I was hugely into El Generico and Kevin Steen and wanted them to dethrone the Briscoes but it didn't happen. Enter the Age of the Fall. A group that featured Lacey, who I loved, Jimmy Jacobs and a guy named Tyler Black, who I instantly saw potential in. Anyway, this was allowed to headline ROH's biggest show of the year and it delivered. I can't recall ever being this into a tag team match and I bit on every close call. Black would eventually hit a Phoenix Splash to win the belts. The entire crowd was pissed, but if you look in the upper left corner of the screen, you'll see my brother and I celebrating the win among the upset fans. Such a great moment.
7. NXT Championship: Kevin Owens (c) vs. Finn Balor vs. Samoa Joe vs. Tyler Breeze - NXT 6/12/15
Since they began traveling outside of Florida, NXT has visited Ohio four times. Here we have the main event from the third show there, second at the Agora Theater in Cleveland. Kevin Owens was fresh off of beating John Cena cleanly at Elimination Chamber and was absurdly over. I mean, the other three guys were all very popular, but Owens was on another level. Now, this wasn't one of those cases where a lot of talent is in a match, but it disappoints. These four men did some really fine work together. There were some really cool spots and a surprising amount of comedy. At one point, Owens and Breeze worked together as Owens suplexed Finn. He wanted Breeze to do the same to Joe, but he couldn't due to Joe's size. An annoying Owens shouted "OKAY FINE, I'LL HELP YOU!" There were so many moments in this match that I enjoyed. I just wish there was a way to see it at least one more time.
6. ROH World Championship: Nigel McGuinness (c) vs. Bryan Danielson - 6th Anniversary Show 2/23/08
Back to the Manhattan Center we go. This was the main event of the Ring of Honor in this building less than two months after the Tag Team Title match I listed earlier. The rivalry between Bryan Danielson and Nigel McGuinness is, in my opinion, the greatest in ROH history. This was their first match with the role of champion and challenger being reversed as Nigel was used to being the guy chasing the belt. The fans turned on Nigel after some injuries early into his reign, so he just went with it, going full on dick heel. He cut a promo earlier in the show, saying that he had another head injury and the match wouldn't happen. Danielson came out and agreed to not hit him in the head if it meant the match would stay on. That stipulation was played into perfectly throughout the match. In the end, it was Nigel who would purposely go after Bryan's head to win, showing just how far his heel turn had come.
5. Adrian Neville vs. Cesaro - NXT 3/5/15
Okay, so there are also pretty much no photos of this match available either. The first ever NXT show outside of the state of Florida saw the crew come to Columbus. Half of the show was taped for TV (including Sasha Banks vs. Alexa Bliss, Kevin Owens vs. Alex Riley and Tyler Breeze vs. Kalisto), but the rest was for the live fans only (Finn Balor and Hideo Itami vs. The Vaudevillains, Tyson Kidd vs. Baron Corbin, Bayley vs. Charlotte). This match kind of falls in the middle. While it wasn't used on TV, I believe it is supposed to be an exclusive for the "Greatest NXT Matches" DVD/Blu-Ray that is coming out. Beforehand, we knew nothing of the card. We didn't even know Cesaro was there, so when they came out for this, the place went nuts. What followed was some of the best action I've seen packed in about twenty minutes. They fought on the outside, used their surroundings to their advantage and shows great chemistry. Cesaro was such a perfect base for someone like Adrian Neville. I won't spoil the winner in case you don't know and want to get the DVD. Just know it's a fantastic match.
4. ROH World Championship: Nigel McGuinness (c) vs. Bryan Danielson vs. Claudio Castagnoli vs. Tyler Black - Death Before Dishonor VI 8/2/08
Another match from the glorious ROH World Title run of Nigel McGuinness. With ROH moving on up to the Hammerstein Ballroom section of the Manhattan Center, they tried to pack a huge show into their debut in May of 2008. Unfortunately, that show fell a bit flat. Their second Hammerstein show absolutely delivered and it was capped by one of the greatest World Title matches I've ever seen. Four of my favorite guys in ROH at the time competed in an elimination match. Claudio Castagnoli had the fans turn on him after a lackluster performance in the main event of that first Hammerstein show. He was eliminated first here and took it out on Bryan Danielson, destroying him with a chair. Nigel took advantage to eliminate him too. That set the stage for a nail biting encounter between the champion and Tyler Black. Black was one half of the Tag Team Champions and had debuted less than a year before but everyone bought into the near falls he picked up here. He had come close back in March as well, but Nigel always had just enough to beat him. That was the case here as well. Nigel retained in a match that you honestly have to see to believe.
3. WWF Championship Street Fight: Triple H (c) vs. Cactus Jack - Royal Rumble 1/23/00
The first ever WWE Pay-Per-View that I witnessed live was easily the better of the two. While ten year old Kevin had to sit through Mae Young's tits, I did get to see what was a barbaric WWF Title match. Even though I was young, I had been watching ECW on a regular basis for a few years already. I was no stranger to a good street fight, but I never expected something like this. Barbed wire, thumbtacks and a lot of blood were spilled in the match that kind of officially solidified Triple H. The only reason this isn't higher is because I didn't love it live. I wasn't a tall kid and this was the era when everyone and their mother held up a sign. That, coupled with the brawling at ringside made it so I couldn't see parts of the match. That's the main reason this doesn't rank higher. Still, it's one of the best WWF Title matches in history.
2. ROH World Championship: Takeshi Morishima (c) vs. Bryan Danielson - Manhattan Mayhem II 8/25/07
One of the best overall events that I attended was ROH Manhattan Mayhem II. The double main event featured the Briscoes beating Kevin Steen and El Generico in a great 2 out of 3 falls match. The other main event came on before it and stole the entire show. Takeishi Morishima was in the midst of a pretty great run with the ROH World Title. This was his biggest defense as he faced the man who set the record for most defenses with the belt, Bryan Danielson. Danielson was the guy the fans believed could take down the dominant champion. He went in with a sound strategy and kicked at Morishima's leg to try and chop him down. The match progressed to one of the best I've ever seen, period. Danielson would fall short and end up with a busted eye socket. I would go on to see these two wrestle three more times live, but none could top the original.
1. ROH World Championship: Nigel McGuinness (c) vs. Austin Aries - Rising Above 12/29/07
To this day, I have never been more drawn into a match than I was at ROH Rising Above 2007. This was ROH's second Pay-Per-View in New York and I had relatively good seats about four rows back near the entrance. I was excited for this main event, but I recall wishing it was Danielson/Nigel. Austin Aries shut me up and had a phenomenal match with Nigel McGuinness. It was going very well until Nigel started jawing with some fans in the front row. Aries hit his suicide dive, known as the heat seeking missile, to Nigels' back. That sent Nigel face first into the guardrail and he couldn't block it. I was behind the fans he was jawing with so I saw Nigel's face hit and afterwards, he looked forward with a blank stare as blood trickled down his eye. It was clear that he was way out of it. Not only did Nigel manage to continue the match, but he did so for almost twenty more minutes at an absurdly high level. I bit on everything. I had never been so captivated. Nigel retained in a match that still blows my mind to this day. It's the only match I've ever seen live that I gave the full five star treatment to.