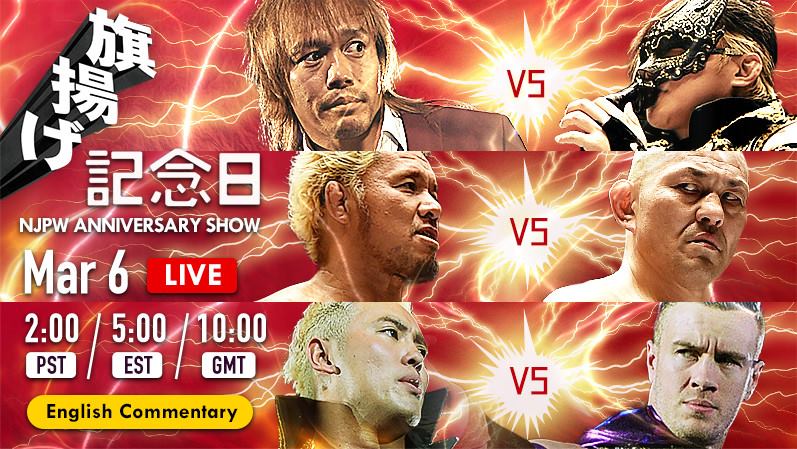 NJPW Anniversary Event
March 6th, 2018 | Ota Ward Gymnasium in Tokyo, Japan | Attendance: 3,864
New Japan celebrates their anniversary with this event. Last year, we had some cool moments like TenKoji winning the Tag Titles, a great Hiromu/Taguchi match, and Tiger Mask W against Kazuchika Okada. This year's show looks significantly worse on paper, with Tetsuya Naito working Taichi and a main event featuring two of my least favorite wrestlers in NJPW. But, I'm always up to be surprised, so let's see if this show delivers.
Katsuya Kitamura was supposed to finish his trial series today, but was pulled from the show due to a concussion.
Hiroyoshi Tenzan, Jushin Thunder Liger, KUSHIDA, Ryusuke Taguchi, and Tiger Mask IV vs. Ren Narita, Tetsuhiro Yagi, Tomoyuki Oka, Shota Umino, and Yuji Nagata
Nagata is partaking in "bring your kids to work' day. His Young Lions jumped their opponents before the bell, trying to get the upper hand since they know they're in serious trouble. Once it calmed down into something more traditional, we got your usual New Japan opener. Everyone got some shine. The highlights were Tenzan and Nagata going at it, as well as KUSHIDA's run. He was in his hometown and the crowd was hot for him. I liked he and Oka putting KUSHIDA and Taguchi into stereo submissions. KUSHIDA got left alone with Umino, who he made tap to the Hoverboard Lock in 7:31. As I said, it was your typical opener. Fine action, the lions worked hard, and mostly everyone got showcased.
[**½]
David Finlay, Juice Robinson, and Toa Henare vs. NEVER Openweight Champion Hirooki Goto, Tomohiro Ishii, and Toru Yano
You know, as much as I want to see Juice and Finlay as a team, I'd be all for Juice dethroning Goto. Speaking of Juice, he sported some new gear tonight. Henare continued to bring it to Ishii, as he has on recent shows. He's like a bigger Hirai Kawato in how he refuses to show fear. Finlay ended up playing the face in peril role, before making the hot tag to Juice. The fans have really grown to like him. His run included him hitting all three CHAOS guys with his trademark punches. Henare got tagged again and Yano was wise enough to tie up Juice, allowing Goto to beat Henare with the GTR at 7:41. A good little six-man tag. Henare/Ishii continues to be fun, while Juice and Finlay always bring energy. I hope we get Ishii/Juice in the New Japan Cup.
[**¾]
IWGP Jr. Heavyweight Tag Team Championship: Roppongi 3K [c]

w/ Rocky Romero

vs. BUSHI and Hiromu Takahashi vs. El Desperado and Yoshinobu Kanemaru
I hope they're saving LIDJ/RPG 3K for a bigger show. It's far and away the best potential matchup and it ruled in the tournament last year. Anyway, at least Desperado is here. He, Sabre, and Suzuki are the saving graces of Suzuki-Gun. SHO got beaten by up the two sets of challengers. They've really been booked to mostly get their asses kicked. It's strange. I get the sympathetic babyfaces, but it's so consistent. SHO's back was a target and he got trapped in a Boston crab for a bit. I like people using that on RPG 3K, as a nod to still seeing them as Young Lions, though they need to grow out of it soon. SHO sold it all very well. The champs rallied once YOH got the tag, leading to the next stage of the match being a step up. In the end, BUSHI's mist got negated by Kanemaru spitting whiskey at him. Desperado rolled up the misted SHO to win the titles in 16:34. It was a good, fun match with some great exchanges down the stretch. RPG 3K continue to sell very well. However, it remains hard to care about this division. The booking is ATROCIOUS. Just merge the tag divisions so Gedo can poorly book one instead of two.
[***¼]
IWGP Tag Team Champion SANADA vs. YOSHI-HASHI
I enjoyed their New Japan Cup match last year. In fact, I liked it more than SANADA's recent Heavyweight Title shot. These guys were given a lot of time and mostly made it work. SANADA controlled most of it, showing an aggressive side to go with his incredible athletic skillset. On some nights, HASHI is very good and this was one of them. He brought a lot of babyface fire in his comebacks, and got the crowd behind him. That's a tough task considering how popular SANADA is. When SANADA got trapped in the Butterfly Lock, he looked completely out of it, but rallied to reach the ropes and survive. He countered Karma into Skull End and looked to have it won, only to let go. Never fear, as it was just to go up top and connect on the moonsault, getting the win in 17:38. Another good match, with some strong performances by both guys. HASHI got the crowd behind him, while SANADA continued to show promise.
[***]
Taichi vs. Tetsuya Naito
This kind of booking would get RIPPED apart if this were WWE. The guy who should've won the top title over "the guy" has fallen and ended up wasting time against the worst of the worst. However, Naito proved why he's a top three wrestler on the planet. He got a high quality match out of Taichi here. Taichi jumped Naito and powerbombed him on the stage. That allowed him to work a heat segment that made sense, without making Naito look bad. Thankfully, Taichi didn't play the cowardly heel too much. He still brought heel tactics, but it wasn't done in the annoying fashion of his Jr. matches. Naito had to resort to his own rule breaking style to turn the tide. That included breaking the microphone stand over Taichi's head, followed by Destino that finished this in 14:07. I ended up enjoying that way more than expected. Naito got the best out of Taichi and it made for an interesting match. I appreciated the effort and how smartly this was laid out.
[***¼]
IWGP Intercontinental Championship: Minoru Suzuki [c] vs. Togi Makabe
When you get these two together, you can expect a hard hitting match. And yes, that's exactly how they came out of the blocks. They traded bombs for most of the match. As Minoru moved to using a chair, Red Shoes was tough enough to stand in front of him and stop the assault. Like he did against Tanahashi, Minoru's focus was the knee of his opponent. Makabe combated it with his power, though once the knee became damaged, he couldn't do it as much. He fought from behind and showed more heart and effort than we typically get from him. He went for broke and came up short, missing the King Kong Knee Drop. From there, it was Suzuki's dominance. Makabe had fight left in him and survived a bit, but ultimately fell to the Gotch Piledriver in 19:04. Another match I liked more than I thought I would. They worked to their strengths, told a fine story, and left the Suzuki-Gun shenanigans to the side. Minoru as IC Champ has already been loads better than his NEVER Title run.
[***½]
IWGP Heavyweight Champion Kazuchika Okada vs. IWGP Jr. Heavyweight Champion Will Ospreay
They ran a similar back in 2012 when Heavyweight Champion Okada (yea, he's basically always champ) faced Jr. Champ Kota Ibushi. This is quite the drop off. They showed respect to one another before the match, being stablemates and all. Okada came in with a plan, going after the leg to neutralize Ospreay's high flying offense. Early on, Ospreay showed that he can do more than flip around the ring when he wants to. Unfortunately, the match turned into the basic Okada formula we've come to expect. It doesn't make for a bad match, just one that isn't very exciting. Okada dominated at times, with Will only getting in a few small hope spots. Of course, Okada held on for the Rainmaker, it got countered a few times, he ended up hitting, etc. You know the drill. Eventually, one of them was enough to keep Ospreay down after 25:25. As I said, this was a fine wrestling match. It just had nothing about it to make it special. It felt like just another match. Like one you'd get from Okada in the middle of the G1. I was hoping they'd bring more, all things considered, but they didn't.
[***]
Overall:
6.5/10.
A solid show from NJPW, just one that didn't feature a standout match. Taichi/Naito and the IC Title match were nice surprises, while Ospreay/Okada lacked. The Jr. Tag Title match was also good, though the title change was pointless and dumb, as usual. Nothing on the show is bad and cutting out all the usual Suzuki-Gun nonsense we were hammered with last year has helped make sure shows this year don't have that standout bad match or two. However, NJPW has felt very lackluster in 2018. It hasn't been bad, but I'm waiting to be blown away and I haven't outside of two or three matches. Hopefully, things pick up heading into Sakura Genesis and beyond.