As I've done in recent months, I'm going to be looking at the top ten matches in a certain Pay-Per-View's history. I missed doing it for Survivor Series and I apologize for it but I'm back with it for TLC. TLC has only been a Pay-Per-View since 2009 but it has still produced some damn good matches. Not much in the qualifications here except that the match had to take place on a TLC Pay-Per-View.
10. Divas Tables Match - Natalya and Beth Phoenix vs. Team LayCool
The first and only Divas Tables match in history saw Natalya put her Divas Title on the line with Beth Phoenix as her partner against Team LayCool. Not only does this make the list for its historical value, but it also was very good. Most Divas matches are something that a lot of people, not me though, consider to be bathroom breaks. This was far from that as all four girls worked hard and had great chemistry. They got just under ten minutes and Natalya retained in a fun contest.
9. Intercontinental Championship Ladder Match: Dolph Ziggler (c) vs. Jack Swagger vs. Kofi Kingston
I consider this mach to be a bit of a forgotten classic. Not many people remember this but it was a very good part of what was a very good Pay-Per-View. Dolph Ziggler was shooting up the rankings and on his way to a World Heavyweight Title shot at the Royal Rumble, but he would try and retain his gold here. I believe that Swagger and Kingston were part of a United States Title Triple Threat a few months earlier which is interesting. Regardless, this was a creative match with some cool spots and Dolph surprised me when he retained at the nine minute mark. It would have had a chance to be higher if it got a bit more time.
8. World Heavyweight Championship Chairs Match: Big Show (c) vs. Sheamus
I have never, and will never understand the concept of a Chairs match. Why is it not just a No Disqualifications match? Are other weapons allowed? The Ladder match and the Tables match both make sense but this doesn't. Enough ragging on the stipulation though, as it comes down to the fact that Big Show and Sheamus surprised everyone with their series of very good matches at the tail end of 2012. This was better than their Survivor Series match but not as good as their match at Hell in a Cell. Big Show retained in about 14 minutes, culminating the underrated rivalry.
7. Ladder Match: Dolph Ziggler vs. John Cena
After winning Money in the Bank in 2012, it seemed like Dolph Ziggler was heading towards the biggest run of his career. He would go on to be the sole survivor at the previous month's Survivor Series before moving into a feud with John Cena. The backdrop for this was that Vickie Guerrero, Dolph's manager, forced AJ Lee out of the General Manager spot because of her affair with Cena. Dolph was made to put his Money in the Bank briefcase on the line and got to main event the Pay-Per-View. Both guys did their part and had a very good match, worthy of closing a show. Cena was near victory when AJ Lee turned her back on him, allowing Dolph to retain his briefcase after 23 minutes. This would lead to the wonderful AJ/Dolph partnership and Dolph's eventual thunderous cash in.
6. ECW Championship Ladder Match: Christian (c) vs. Shelton Benjamin
Here's another relatively overlooked contest. In 2009, Christian returned to the WWE but instead of being part of a huge angle with Edge or something like that, he joined the ECW brand. Some people saw it as a letdown but Christian followed with a year or so of some of the best work in his career. He won the ECW Title and was consistently putting on some of the best matches in the company. Shelton Benjamin was in the midst of a solid face run as the "Gold Standard" and they met in a match that both could consider their specialty, the Ladder match. They opened the first ever TLC PPV and set a standard for it with a great 18 minute match that saw Christian retain the title.
5. WWE Tag Team Championship: The Brotherhood (c) vs. The Real Americans vs. Big Show and Rey Mysterio vs. Rybaxel
The lone match from the 2013 event to make this list is the Tag Team Title bout. I don't believe this was even advertised beforehand but it stole the show. See, after winning the Tag Team Titles from The Shield, The Brotherhood basically stole the show with every single title defense. They were amazing and I wish they got a longer run as Champions. Stupid New Age Outlaws. Anyway, this was a great match that shockingly got 22 minuets. The Brotherhood would retain after non-stop fun. Seriously, go see this one if you never have.
4. WWE Championship TLC: CM Punk (c) vs. Alberto Del Rio vs. The Miz
At the 2011 Survivor Series, CM Punk won the WWE Championship from Alberto Del Rio. That fixed a problem that started at SummerSlam when the hottest Superstar in the company dropped the belt. For his first Pay-Per-View, Punk would get to main event a show that didn't feature John Cena, who was basically a healthy scratch. Punk showed an ability to draw on his own as the PPV did well and the main event did even better. I don't think there has ever been another Triple Threat TLC but these guys did it right and Punk kept the gold following an 18 minute match.
3. World Heavyweight Championship TLC: Kane (c) vs. Alberto Del Rio vs. Edge vs. Rey Mysterio
The last match was the only Triple Threat TLC and this is the only Fatal Four Way TLC. Kane had cashed in Money in the Bank to win the World Title in the summer of 2010, leading to a World Title run that was a lot better than people expected. However, he faced a huge challenge here against Edge, Rey Mysterio and hot new star Alberto Del Rio. This is another match that I consider overlooked but it's one of the best TLC matches I've ever seen. Edge would continue to prove his dominance in Ladder style matches, winning his final World Title here. The match went 23 minutes and again, gets some extra points for the historical value.
2. Number One Contender's Ladder Match: John Morrison vs. King Sheamus
This is the only Ladder match in TLC history to not have a title or briefcase hanging from the rafters. Instead, it was a contract for a shot at the WWE Championship. Sheamus had won the WWE Title at this even the year before and was hot off of beating John Morrison to become King of the Ring. Morrison was always hot and cold. He had a great 2009 on Smackdown, before cooling off in 2010. Things would change as he got hot near the end of the year again and won this amazing match. I did not have high expectations going in but these two blew me away in what was probably a top five match of that year. I told you that 2010 was a damn good event.
1. TLC Match: The Shield vs. Ryback and Team Hell No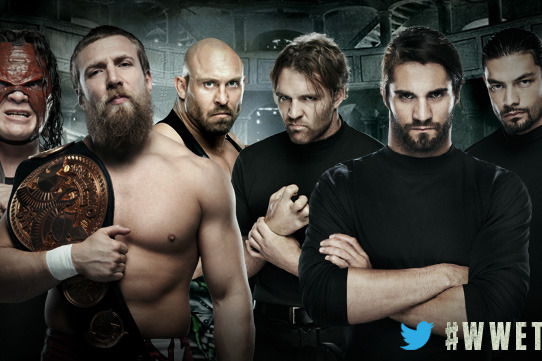 After their debut at the 2012 Survivor Series, The Shield didn't have their first official match until the following month's TLC Pay-Per-View. They were given a spotlight for sure as they met in the only TLC match on that card. Ryback was still green but he had two of the best possible partners in Daniel Bryan and Kane. They went out in Brooklyn and tore the house down. The Shield won a near 23 minute match that featured big spots and creativity. Seth Rollins took the biggest bump as he was sent flying off of a ladder and through multiple tables. It was the first step for a dominant faction that would go on to win plenty of big PPV matches, steal plenty of shows and become major stars.