In a move that is still really surreal to me, AJ Styles is now a member of the WWE roster. As a massive AJ fan, I'm excited at this news, but also cautious at how he gets used. The WWE doesn't always have a great track record with guys who became stars elsewhere. Anyway, one thing I can be optimistic about is the potential matches. Regardless of how he's used, AJ Styles can flat out go in the ring. The WWE roster is full of great wrestlers too, meaning a lot of potential dream matches. I narrowed it down to ten guys I'd want to see him face most. Of note, guys like Samoa Joe didn't make the cut since I'm counting matches I have never seen before.
Actually, I'd pretty much love to see Neville against almost anyone. It's a far cry from when I first saw him as PAC at an ROH show and he severely underwhelmed. He won me over as champion during NXT's fantastic 2014. Anyway, this could work for a variety of reasons. Neville is a freak athlete and incredible high flyer. That kind of sounds like AJ Styles himself early in his TNA run. I feel like this could work as kind of a look back for AJ. AJ is no longer the risk taker that he once was, but he'll know what to expect from Neville because that's how he used to be. It's similar to the vibe I got when watching Styles wrestle Kota Ibushi in New Japan. AJ kind of gets a glimpse into the past and has to either combat that by going back to those days, or outsmart Neville with his veteran knowhow. Neville is also different from other people on this list because he's actually faced Styles in the past. I've never seen those matches, so I still included him, but I heard some pretty high praise. If that is the case, they should already have chemistry and it could only be better considering how both men have matured over time.
This would be a lot higher if we didn't know the way that Brock Lesnar matches go these days. I'm not complaining about the Brock matches, because I love seeing him toss people around. It's just not something I'd care for that much when it comes to AJ Styles. It could come off like the pretty bad Seth Rollins/Brock Lesnar match from Battleground. That being said, just seeing AJ Styles share a ring with Lesnar would be pretty rad. It's actually something that I badly wanted to see in the Royal Rumble, but they never got the chance. If they were given the chance to have a mildly competitive match, it could be fun. Styles is the kind of guy that would bump for Brock very well. Everything that Brock does already looks violent and painful, but Styles would go the extra mile to make them look even better. Plus, during AJ's G1 Climax runs, he showed that he is one of the most versatile wrestlers in the world. He adapted to any and every one put in front of him and I'm sure he'd do the same if given the chance to work Brock Lesnar.
Like some of the earlier matches I listed, this one isn't about making the most money for the WWE. Cesaro vs. AJ Styles doesn't sound like something that would rack up millions of dollars for WrestleMania. What it does sound like, is something that I would not miss by any means. These are of the slickest, best in-ring performers on the planet and it's almost a guarantee that they would put on a classic match. Cesaro is great at working with smaller guys and while AJ Styles is not small like a Kalisto, their styles could match up well. I would love to see these two be given a platform to just wrestle. I don't need any extra nonsense thrown in or anything remotely like that. It's one of those times that I want two wrestlers, in a wrestling ring, having a wrestling match and nothing more. I can just picture some of the spots they would do in my head. I see Styles selling the popup uppercut in tremendous fashion. I can picture both guys teasing their similar finishers, the Styles Clash and Neutralizer. Add in that they've never wrestled each other and you've got a must see match. Unfortunately, due to Cesaro's injury, we won't be seeing it for a while.
I realized that a good chunk of this list are guys that made their names on the indies and away from the WWE. Randy Orton does not fit that mold. Orton screams the WWE mold and has been one of the poster children for the company. He is mostly dull on the mic but is one of the smoothest wrestlers I've ever seen. I think that a match against AJ Styles could be pretty fantastic. Orton would have to want the match though. If it's a case where the WWE books him in it and he's not interested, Orton has the potential to phone it in and deliver a piss poor performance. When Orton is on and motivated though, he's easily one of the very best. This would be a collision of two of the crispest workers in the business. I'd like to see it if Orton was working as the vicious "Viper" heel gimmick. It's him at his best and Styles, while he developed into a good, solid heel, usually does his best work as a babyface. That dynamic could make for magic and a potentially great match. It would even work as a first big program for AJ in case they want to move him up to face guys like Cena or Reigns.
Here's one of the matches I've thought about that has potential to take place within the next few months. With the WWE Championship picture pretty much sealed up heading into WrestleMania, I can't see AJ Styles involved in that. Add in all of the injuries that leave other top guys like John Cena, Randy Orton and Seth Rollins out, and I could totally see AJ Styles in the Intercontinental Championship picture. Who just happens to hold that title at the time of this writing? Dean Ambrose. Ambrose is the rare Intercontinental Champion in recent memory that is actually booked like a main eventer. Due to that, this won't seem like a waste of AJ Styles. These two would make for interesting television considering the fact that Ambrose is one of the more intriguing and different guys in all of wrestling. Styles would certainly find a way to adapt to his personality and it should produce a good match. It would also allow for the Intercontinental Title to be a very prominent title as there is almost no way this wouldn't be heralded as a big deal. Despite spending time on the indies for a while, I don't believe these two have ever met.
There seems to be a very good chance we get this match before any of the others on the list. When AJ Styles debuted in the Royal Rumble, I wanted to see him last until at least the final four to really make an impact. Instead, he was eliminated after about 28 minutes by none other than Kevin Owens. Owens even mocked AJ's signature taunt after dumping him out. Those planted seeds were enough to make for an intriguing match. During the Rumble, they went into a rough exchange of right hands and the crowd absolutely nuts. Even as Owens threw him over the top, he shouted something along the lines of "welcome to the WWE". This is something that I could see working better as an actual program than a one-off. Kevin Owens is just so good at drawing heat. He's so good on the microphone, that he could carry that aspect mostly on his own since it isn't AJ's strongest suit. Owens, like Cesaro, is someone that works beautifully with guys of a smaller stature than him, as evidenced by his matches with guys like Balor, Zayn and Neville. He and AJ would engage in a great back and forth of athleticism, power and wits. I'm all for this happening at Fastlane or even WrestleMania 32.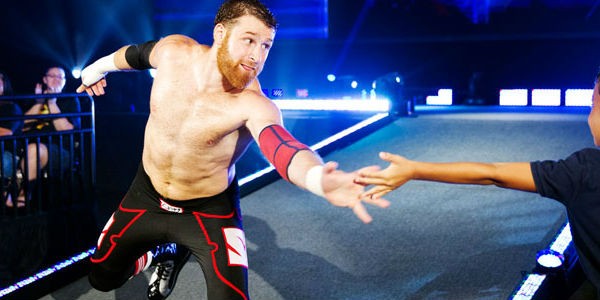 Of the guys on this list that were indy darlings, my personal favorite is Sami Zayn. He was the first guy to show up at my first live Ring of Honor event and I was hooked on El Generico. He went on to have some of my favorite matches ever. Since moving to the WWE and NXT, Sami Zayn has somehow become someone I like even more. This would be a personal dream match. Sami has shown that he can deliver regardless of the situation. From Adrian Neville and Kevin Owens to guys like Titus O'Neil and Baron Corbin, Sami always has good matches. AJ Styles is of a similar mold in that he can make almost any match work as well as you could expect. As far as I know, they've never wrestled during their time on the indies so this would be extra special as a first time ever encounter. Sami is tremendous at getting you emotionally invested into a match and the actual straight up wrestling parts of this would already be great as it is. I'd consider this a heavily wanted dream match of mine.
TNA and WWE are clearly in VERY different leagues. That much is clear. I don't think the difference between the man of TNA for so long and the man in WWE for the past decade is anywhere near that large. John Cena and AJ Styles are, love them or hate them, two of the very best and most successful wrestlers of the past twenty years. Of all of the potential matches on this list, this would be the biggest money one. You've got the guy that has defined everything the WWE stands for the past decade and the guy that has been the biggest name and best American wrestler outside of the WWE during that time. It would be the best kind of Styles Clash, pun intended. Over the past year, Cena has shown that he can work well with guys that made big splashes in other companies. Hell, his best United States Title matches in 2015 all involved guys like that (Owens, Zayn, Neville, Cesaro). Don't bill this match as some sort of situation where AJ is a rookie, handle it like AJ wants to prove that he belongs in the WWE. He's conquered every other endeavor in his career, but beating John Cena would top them all. He should actually beat him to solidify that he is on the best, but I could see it going the other way.
Yea, this one pretty much writes itself. Finn Balor, then Prince Devitt, formed the Bullet Club in New Japan Pro Wrestling. After about a year of doing that and building the group to a pretty popular place, Devitt left NJPW to join the WWE. As Devitt stepped away from being the leader, AJ Styles debuted and replaced him. It's so interesting because they've never crossed paths. Right as Devitt left, AJ showed up and now that AJ is in the WWE with Balor, Finn is still in NXT. He also doesn't seem to be leaving there anytime soon. While the Bullet Club stuff didn't take place in the WWE, they would be wise not to ignore it. It's a readymade story. Hell, now that Doc Gallows and Karl Anderson are reportedly headed to the WWE, they could add to this. As for the match itself, I think would be pretty fantastic. Both guys are among my favorites to watch. They both utilize the Bloody Sunday Brainbuster, both take to the sky when necessary and I truly believe they would mesh very well together. We'd either need a Finn call-up or a special appearance in NXT by AJ Styles, but it would be worth it.
The WWE roster is chock full of incredibly talented performers. There might be more pure talent right now than at any other time in history. One guy stands out above the rest in my opinion and that's Seth Rollins. When I first saw Seth in Ring of Honor in 2007, I was instantly enthralled. His aerial ability reminded of my favorite wrestler, AJ Styles. I made it a point to follow Seth's career all the way to his WWE Championship run last year. A match between he and AJ Styles is something I've dreamed about for a very long time. It could run in the same way as my suggested Neville/AJ match. Styles could kind of see a lot of his younger self in Seth Rollins. A few months back, Seth was interviewed and asked about a potential match with Styles. He admitted to being of the generation of wrestlers that were inspired by guys like AJ, Daniel Bryan and CM Punk, while saying they're both at the top of their games and it would make for some interesting television. Not only does this top the list as what I want the most, but it also is the one I think would be the best.