1) The New Day:
This week, despite being jam packed, New Day absolutely deserves this spot. On Raw, New Day not only entertained us with a fun pre-match promo but they went out and had the best match on free WWE television this year. They had a really fun back and forth match against AJ Styles and Chris Jericho, retaining their Tag Team Titles. That would be enough to put them high on the list but then they opened Roadblock up. After cutting another highly entertaining promo, complete with Booty-O's cereal, they bested the League of Nations in another successful Tag Team Title defense. The match also proved to be better than expected. New Day rocks, indeed.
2) Trevor Lee:
Normally, in a week as crowded as this one, such a small promotion wouldn't end up making it.
However, CWF Mid-Atlantic's YouTube channel uploaded this week's episode and it featured a 105 minute match for the CWF Mid-Atlantic Championship. Champion Roy Wilkins is someone I'd never heard of but he impressed me here. Trevor Lee is the real story though. I usually don't really enjoy his brand of wrestling but he was spectacular here. From twisting his opponent's arm in odd ways to making the huge babyface comeback to the sheer incredible accomplishment of wrestling for nearly two hours (Wilkins gets obvious props for this too), Lee was outstanding. Not only is working such a long match a challenge, but having one that kept my interest for so long is amazing. Lee won the marathon to capture the CWF Mid-Atlantic Championship. Seriously, make time to watch this match.
3) Mil Muertes:
Lucha Underground continues to be the best wrestling program on a weekly basis. Mil Muertes made his second defense of the Lucha Underground Championship against arguably the two biggest stars in LU, Pentagon Jr. and Prince Puma. This proved to be a fantastic sprint of a title match, filled with great spots galore. It was one of three matches that I watched this year to make my top ten. Muertes bested Pentagon and Puma with two spears and a double Flatliner to remain the champion. He was then challenged by Fenix for next week, setting up an intriguing match. I don't know if he'll retain again, but for now, Muertes belongs on this list.
4) Tetsuya Naito: Over the past two or so weeks, NJPW has held their annual New Japan Cup Tournament. A heavy favorite going in was Tetsuya Naito and he made good on those predictions. Naito gave Toru Yano a dose of his own medicine in the Semi-Finals, scoring on a low blow and rollup to eliminate him. Then, later that night in the Finals, Naito defeated three time New Japan Cup winner Hirooki Goto in a very solid match. Naito then issued the challenge to IWGP Heavyweight Champion Kazuchika Okada, setting up the big title match for Invasion Attack on April 10th.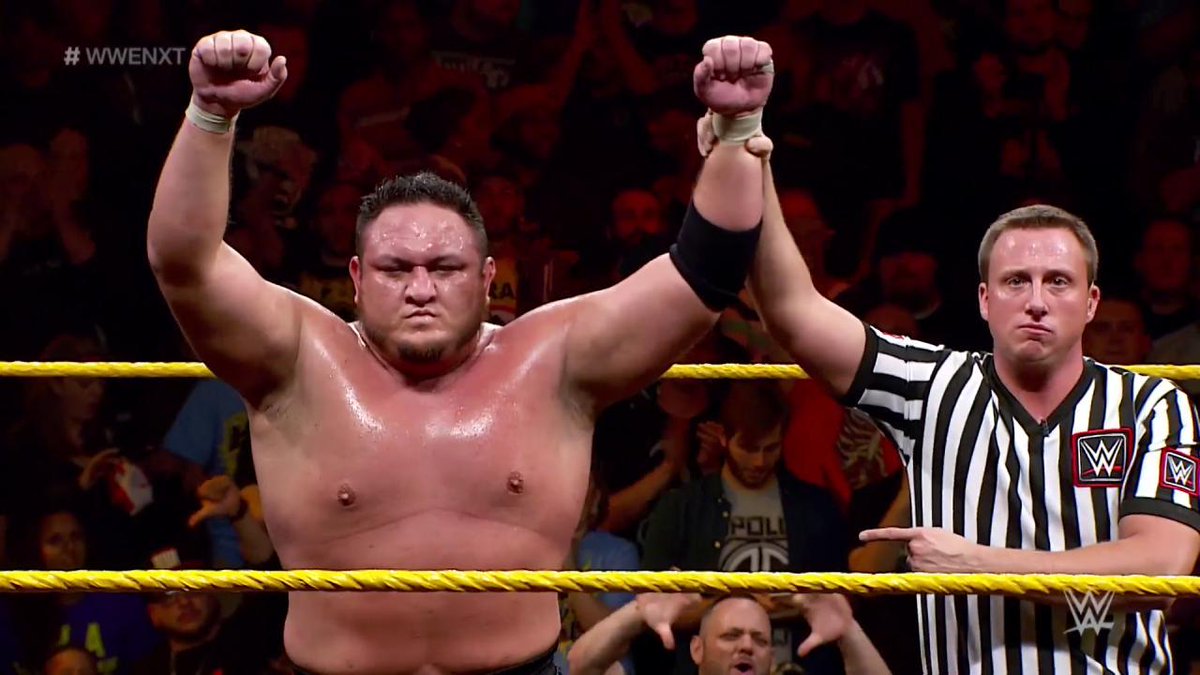 5) Samoa Joe: In almost any other week, Samoa Joe would have ranked higher. This week on NXT, he met Sami Zayn in a Two out of Three Falls match to determine the number one contender for the NXT Championship. What followed was a match that took up the entire episode of NXT. For 42 minutes, Joe and Zayn went to war. Zayn was an incredible resilient babyface and Joe was a tremendous monster heel who just beat the shit out of Sami. Joe prevailed 2-1 and earned the right to once again face Finn Balor for the NXT Title at TakeOver: Dallas. Hopefully, their second match is much better than their TakeOver: London outing.