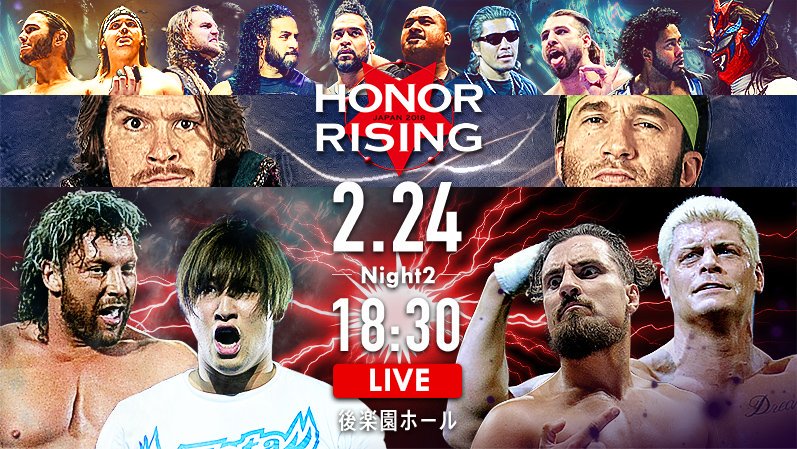 NJPW/ROH Honor Rising Night Two
February 24th | Korakuen Hall in Tokyo, Japan | Attendance: 1,714
After a lackluster opening night, Honor Rising returns for the sequel. Let's hope things turn around here.
The Beer City Bruiser vs. Toa Henare
A night after a surprising match with Hirooki Goto, Bruiser was out for a fight. He demanded that Henare fight him, because he didn't feel like wrestling. That made for a match full of clubbing shots and a bit of brawling. Henare came close with a flying shoulder block. In a finish I didn't expect, it was Beer City Bruiser going up top and winning with a frog splash in 4:25. It was short and something you'd expect to see on ROH TV or something. Maybe it was taped for that. Fine way to get Bruiser back on track after a loss.
[**]
Chase Owens, HIKUELO, and Yujiro Takahashi vs. David Finlay, Jay Lethal, and Juice Robinson
Lethal made the trip to Japan for two multi-man tags. His star has fallen. Owens is in an odd place, not sure which side of the Bullet Club war he's on. The heels pulled a Suzuki-Gun and attacked before the bell. As the match got back to the ring, Finlay took the heat. That included Owens mocking Juice's trademark punches. Jay came in and nailed his tope series. HIKUELO's size was a problem, but a barrage of offense put him down, capped by a Lethal elbow in 6:35. Some fun action in this one, with the babyface team showing a lot of fire. I wish we got more Juice, though.
[**¼]
BUSHI and Hiromu Takahashi vs. Flip Gordon and Ryusuke Taguchi
It's a damn shame BUSHI and Hiromu aren't saving the Jr. tag division right now. Like the three way from night one, there was a lot of fast paced stuff here. If Gordon's one thing, he's athletic. His showboating cost him, as LIDJ took over. He took the heat segment for a bit. Taguchi came in with ass attacks and eventually worked the tag back to Gordon, so he could be all flippy. The crowd got behind him as he busted out a tope. He and Hiromu had some good back and forth towards the end, but got left alone with both opponents. Gordon escaped the Time Bomb, only to fall to a cool Doomsday MX at 10:17. LIDJ delivers again. Gordon's not my cup of tea, but he's more enjoyable in tags where he's not the focal point. The combination of BUSHI and Hiromu is tremendous.
[***]
NEVER Openweight Six Man Tag Team Championship: Bad Luck Fale and The Guerrillas of Destiny [c] vs. Cheeseburger, Delirious, and Jushin Thunder Liger
In a great little moment, Cheeseburger stood in front of the ring announcer to save him from a Fale attack. That set off a brawl to start the match. That ended up leading to Liger taking the heat for his team. It's best because he's the best and most sympathetic member of his trio. Delirious got the tag and did his usual stuff. When Cheeseburger came in, you couldn't help but enjoy it. The throws his tiny frame into everything and gives it his all. He found ways to get in his offense. Though he fought valiantly, Cheeseburger got planted with Guerrilla Warfare for the loss in 9:16. Fine title defense. The outcome was never in doubt, but the face team was fun enough to make it worthwhile.
[**¼]
Chuck Taylor, IWGP United States Heavyweight Champion Jay White, and YOSHI-HASHI vs. Hangman Page and The Young Bucks
I want YOSHI to fill in the Beretta role. Totally be Chuckie's best friend. It was interesting to see how much the Bucks distanced themselves from Hangman. They're still Bullet Club, but Page has firmly sided with Cody, while the Bucks are on the fence. We got some preview of the eventual Page/White match. The Bucks also did most of their signature stuff, which the crowd ate up. Tacos got the hot tag treatment, though his run wasn't that great. Chuckie got a slightly hotter tag and did better with it. In the end, it came down to Page and White. Page got the big pinfall on White after the Rite of Passage in 12:35. Kind of a surprising result, but this is the ceiling for Hangman. There's no way he wins the title, so this is his big moment. It'll set up their title match. This tag was pretty fun and continued the stories it had to.
[**¾]
Post-match, Page got a chair and went to attack White. The Young Bucks stopped him, which confused and annoyed Don Callis. However, as soon as they left, Page planted White with a second Rite of Passage on the chair.
ROH World Championship: Dalton Castle [c] vs. Beretta vs. The Beer City Bruiser
Some Young Lions played Dalton's boys tonight. The Beer City Bruiser came out and said he was in this match, too. So, he just got added. I wish I had that kind of authority. Jay Lethal, who gets an ROH Title shot at the 16th Anniversary Show, joined commentary. To be fair, Beretta was working hurt, so Bruiser might've been added to help. It also worked out, because Beretta is best as a plucky underdog face, which might not have worked against fellow face Dalton. The Bruiser added the element of a big guy to throw him around. He dominated at times and caused the faces to work together to combat it. Everyone got some pretty good near falls in. Castle won with a great looking deadlift German on the Bruiser in 16:00. As I said, adding Bruiser allowed the faces to work from behind, which was good. I still never believed the title would change hands and none of the near falls made me buy into it. Still, a good match.
[***]
Cody and Marty Scurll vs. The Golden Lovers
I don't know if I somehow overlooked it yesterday, but Marty's hair is dyed white now. He confronted Kenny before the match, saying he hadn't picked sides, but Kenny left him behind and obviously picked Kota. Marty and Kota opened by fighting for Kenny's love. Cody ran from Kenny early, leading to a great spot where Kenny dove into the crowd to take him out. The Golden Lovers had their hot start cut off when they tried the Cross Slash (stereo Triangle Moonsaults), giving the Bullet Club the upper hand. Kota took the heat, with Kenny continually kept away. Kenny's hot tag was great and sent the match into the next gear. He saved Cody from a Cross Rhodes off the apron with a V-Trigger. The finishing stretch was pretty wild and saw Cody kiss Ibushi. That fired up Ibushi to hit a series of slaps and a powerbomb. Scurll was left to fall to the Golden Trigger in 20:15. Great main event that was better than last night's The Golden Lovers clearly have top notch chemistry. Their excellent stuff in the ring was matched by the charisma and character work of their opponents.
[***¾]
After the match, Ibushi and Omega closed things out. Omega said this was one of the best weekends of his life and that he wants to become the best tag team in the world in 2018. That brought out the Young Bucks, who constantly make that same claim (even though the best tag team isn't even in this company). They said they're heavyweights now and that they'd see the Golden Lovers soon.
Overall:
6.5/10.
An improvement on night one. The main event was a total blast as the Golden Lovers have become must see already. There are a few good matches on the show, with nothing being outright bad, making for another solid outing. The short runtime helped things along again.