1) Dean Ambrose: Man it has been a really long time since I was able to put Dean Ambrose atop this list. Hell, maybe I haven't ever had him at number one. Since the Shield split, he's been insanely over, but loses big matches. After finally getting a singles PPV win at Extreme Rules for the first time since September 2013, he was set to face his nemesis Seth Rollins on Raw. Kane came out and said if Dean won, he'd be added to the Payback main event. That added intrigue to the match and those two never disappoint. Dean was able to pin the WWE Champion, then go on to be the most entertaining thing about the contract signing from the Smackdown closing segment. Granted, he's probably only in the Payback match to eat the pin, but that doesn't put a damper on his good week.
2) Alberto El Patron: Alberto El Patron is one of my favorite guys in all of wrestling now. This past week on Lucha Underground, he squared off against another former WWE Superstar in Johnny Mundo. These are two of, if not the biggest names in all of Lucha Underground. They never really got into interact much in WWE but got to main event here and shiend brightly. I no longer get El Rey Network so I miss Lucha Underground but I went out of my way to find this match and enjoyed the hell out of it. They tore the house down and El Patron won, earning his spot on this list. I feel that life in Lucha Underground and AAA is perfect for him, as he seems to be rejuvenated and it's a joy to watch.
3) Sami Zayn: With the John Cena Open Challenge, there is excitement to see just who answers it. After a fun start, some of the recent ones have been dull. (I'm looking at you Kane) That all changed this past Monday when Sami fucking Zayn accepted the challenge in front of his hometown of Montreal. Not only that, but he was introduced by Bret Hart of all people. The match that followed was really good and was a great way to introduce Sami to the main roster audience. The crowd was red hot for him and he took the former 15 time World Champion to the limit. The only damper on all of this was that Sami got injured in the process, potentially shelving him for a significant amount of time. I pray that isn't the case because he is in the midst of a great run.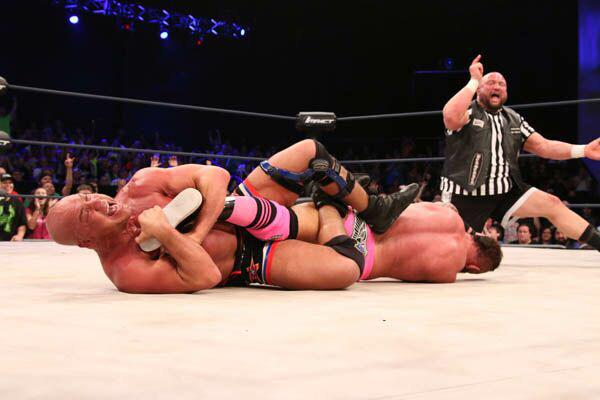 4) Kurt Angle: Once again, it's easy to put TNA Champions on this list for one reason. They defend them so often and it's a great thing. On their live Impact this past Friday night, Kurt Angle successfully defended the TNA World Title against Eric Young. The fact that Angle is not only still going, but going at a relatively high level is insane. That dude is nuts. I hope he's done with Eric Young because he needs to move on to a feud with Ethan Carter III. Seriously, if EC3 faces Angle at Slammiversary and somehow doesn't win the title, I'll be officially done with that company and that's not something I say often. Despite my need to see Angle drop the title, I feel that he's done fine work as the fighting champion and this was another example.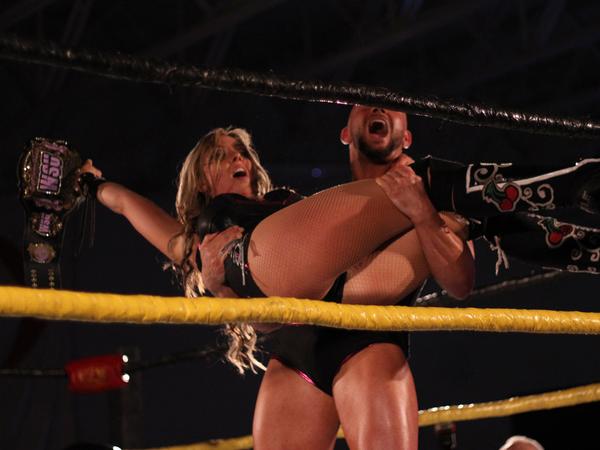 5) Cherry Bomb: I feel like Cherry Bomb is becoming a regular fixture in my Fave Five. The girl continues to rack up the successes and another one came this week. After recently capturing the prestigious SHIMMER Tag Team Titles as one half of the Kimber Bombs, she dethroned LuFisto to become the WSU Champion. I haven't followed WSU closely over the years but I do know some of their past champions. They include Nikki Roxx, Havok, Mercedes Martinez and of course, LuFisto. Adding to this, Cherry's win ended LuFisto's reign at one day shy of a year. If past winners and her recent success is any indication, Cherry Bomb is headed for big things.