So I've been slacking on my top ten lists but I figured this one would be as good as any to do a new one. This focuses on the top ten WWE Divas matches. I've seen some great women's matches outside of the WWE, but I wanted to focus on strictly WWE here. An honorable mention goes out to the Divas Tables match from TLC 2010 and some of the Trish/Lita matches, including the time they main evented Raw. Let's get into this.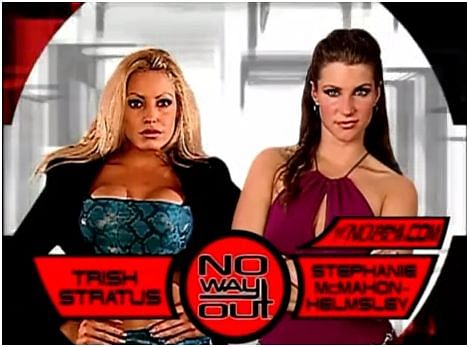 10) Trish Stratus vs. Stephanie McMahon; No Way Out 2001 - Here we have a very interesting pick. This is no wrestling classic just a straight up fight. At this point, Stephanie McMahon and Trish Startus weren't good workers and barely had done any real matches to this point. However, they went out and just beat each other up. They knew they couldn't work a pure wrestling match, so they threw that out the window and had one of the most entertaining fights I have ever seen.
9) Lita vs. Victoria: Raw; Steel Cage - I can't recall many Divas Steel Cage matches. Hell, this is the only one I can even remember. It may not be heralded as a classic to a lot of people but I always remember enjoying it. Lita and Victoria were easily two of the best girls that the company has ever seen and giving them a Steel Cage allowed them to do more than usual. They would go on to have better matches with other Divas but this was their best bout together in my eyes.
8) NXT Women's Championship FInals: Paige vs. Emma -
The NXT Women's division has become one of the very best things going on in all of the WWE and you will see it again more than once on this list. However, this is where it all started. The Tournament to crown the first ever NXT Women's Champion ended with a classic between Paige and Emma. Paige won an emotional battle to be crowned as the first ever champion. These two would have another really good match at the first ever NXT Special but this was their best encounter. To this day, they still have great chemistry but you should really go find this match.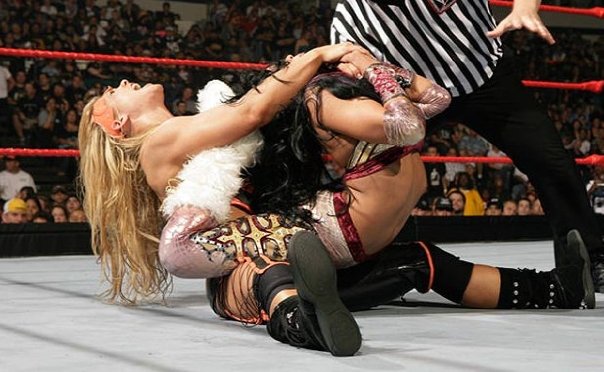 7) I Quit Match: Beth Phoenix vs. Melina; One Night Stand 2008 - Look at that picture. Seriously, just look at it. I'm one who has always found Melina to be pretty overrated but this was her finest hour. Her stuff with Beth Phoenix was almost always good though they took it to the next level on this night. Their I Quit match featured Melina fighting as the resilient underdog, only to succumb to this sick submission by Beth. Melina's flexibility made her the perfect opponent for Beth to bend and twist.
6) WWE Divas Championship: Kaitlyn (c) vs. AJ Lee; Payback 2013 - Before the arrival of Paige, AJ Lee and Kaitlyn were my favorite Divas. They stood out during the awesome third season of NXT and, even though AJ was eliminated before the finals, she found her way to the main roster. Kaitlyn would be the first to win the Divas Title and that set up this match. Some of their others weren't great but everything clicked on this match. It remains the best match either girl has ever put on in my mind. AJ won to accomplish her dream of winning the Divas Title, kickstarting a 295 day reign on top.
5) WWE Women's Championshp: Lita (c) vs. Trish Stratus; Unforgiven 2006 - It's the greatest rivalry in Divas history. Hell, it's one of the greatest rivalries in WWE history period. These two women changed the game, showing that women can be a focal point of the company. Each were more popular than some of the top guys at points. They've had many great matches but I went with the last one. The emotional impact of knowing that it was Trish's last match, in her hometown gave this a little extra something. Trish winning her record seventh Women's Title with a fucking Sharpshooter was the absolute icing on the cake.
4) WWE Women's Championship: Trish Stratus (c) vs. Victoria; Survivor Series 2002 - People can try to diminish Trish Stratus' run all they want, but the girl did a lot. Yea, she wasn't the greatest ring general and hell, looking back, even this match had a few more slip ups than I remember but this was a big deal. Victoria absolutely rocked Trish with a chair shot to the skull in the build up, unheard of for the women of WWE. They went out in Madison Square Garden and beat the shit out of each other with weapons. They tried a bunch of innovative stuff and I can always go back to watch this and enjoy it. It also gets points for being Victoria's first Women's Title win.
3) NXT Women's Championship: Charlotte (c) vs. Sasha Banks; R-Evolution - I gave this show a perfect 10/10 score and these girls are a major part of the reason why. Sasha Banks has quickly become one of my two favorite girls in the world and is arguably the best all around female performer in the WWE. Charlotte is someone I'm less fond of but she is excellent. These two were given time, told a great story and had the best women's match I had seen in years. NXT changed the game when it comes to women's wrestling, with this being one of the reasons why. Charlotte retained with a super Natural Selection in a classic.
2) WWE Women's Championship: Trish Stratus (c) vs. Mickie James; WrestleMania 22 - Make no mistake about it, while Trish and Lita had the best rivalry in Divas history, Trish and Mickie had the best storyline ever. The fact that Mickie debuted as Trish's super fan the previous year, only to get more and more crazed over the months and it all built to a WrestleMania match was brilliant. They went out and had the best Divas match in WrestleMania history. The crowd was red hot for Mickie, she played up the psycho role to perfection and the focus on Trish's leg was masterful. It is my favorite match in the career of either girl.
1) NXT Women's Championship: Charlotte (c) vs. Becky Lynch vs. Bayley vs. Sasha Banks; Rival - I told you that NXT changed the game. I thought that they couldn't top what they did at R-Evolution but adding in Becky Lynch and the always excellent Bayley took this over the top. Since it aired, I have watched this match maybe four or five times and never get bored. The action just never stops. Becky got to look incredible, while Bayley had the crowd behind her. Sasha was her usual great self and, although Charlotte did less than the other girls, I think it was deliberate to allow other girls to shine since she dominated for months. Sasha Banks winning was the icing on the cake as it was a feel good moment for me that I loved.