NXT ran their second show in Cleveland, and I had the pleasure of attending both. Here are some notes from the show.
The Agora Theater was much more organized this time around. Last time was a mess but they seem to have corrected that. The biggest issue was the lack of air conditioning.
We got stuck sitting next to the worst kind of fans. These dudes kept trying to get themselves over in the worst way. They saw ring announcer Dasha and chanted "show your tits" before trying to start a "Chris Benoit" chant later in the show. It got really bad during the Divas tag as there were some EXTREMELY derogatory chants going on, including "Eat Her Pussy". They obviously didn't catch on.
William Regal was out first to a huge pop. He led a ten bell salute for Dusty Rhodes. Dusty tributes were a theme for the night.
The opener was Enzo and Cass vs. The Vaudevillains. This was a blast. From a chicken fight to Cass' Bionic Elbow to the Vaudevillains doing squats in the middle of a move, I laughed a ton during this. Enzo and Cass won. After the match, all four guys hugged it out and did tributes to Dusty. Gotch and English even got in on the S-A-W-F-T stuff.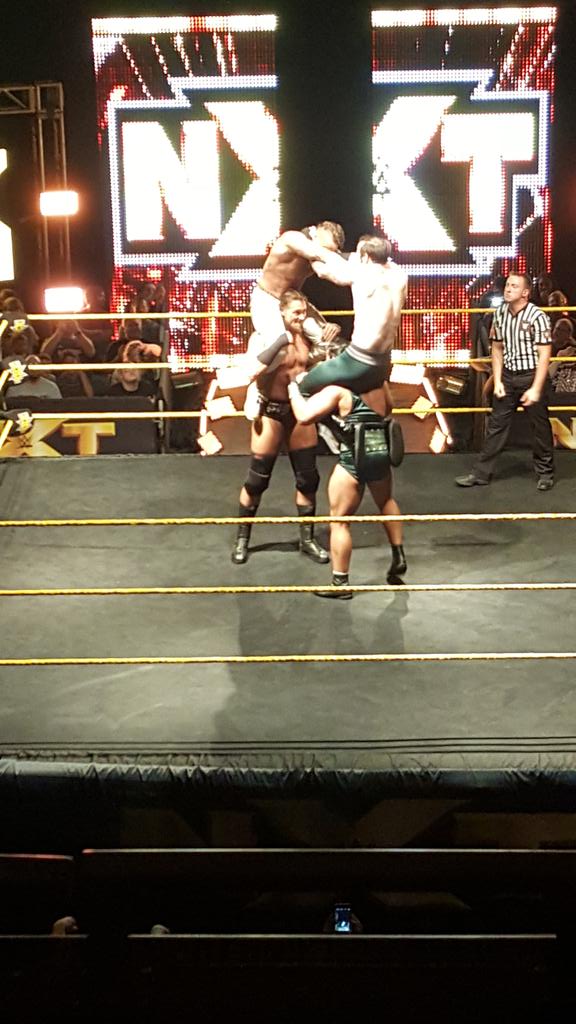 Next up, Bull Dempsey took on Jason Jordan. The crowd didn't care for either guy. Jordan's tron features his old gimmick and haircut, so it seems like the NXT producers were like "we should probably change that, but who really cares?". Bull played the fat man who couldn't run game again, but surprisingly got the crowd behind him. It was hard to focus on the match when all you could see was a very distracting umm "shape" in Jordan's crotch area. Bull won a pretty dull match.
Rhyno took on Baron Corbin next. It was similar to their match at Unstoppable. Baron got monster heat, which again, he seemed to enjoy. He egged on the chants and just seems way more comfortable as a heel. I really enjoyed it. Baron won with the End of Days. He attacked after the match, only to get Gored to a huge pop. Again, a decent match.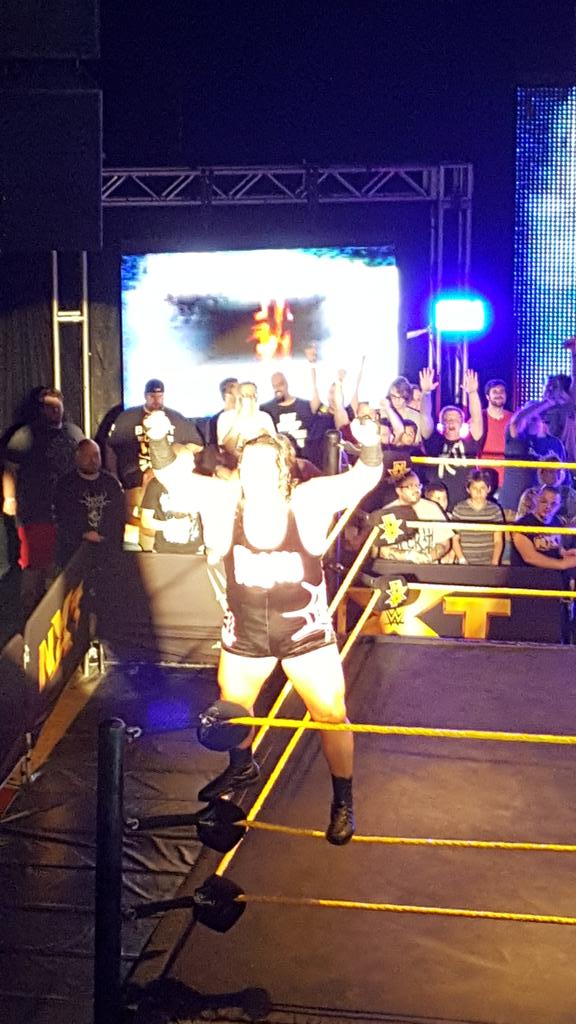 We are told the next match is a Divas tag match. Bayley comes out a huge ovation. My friend Bash was front row in a Bayley shirt and his goal was to get a hug from her. It happened. Dana Brooke came out next to nothing but boos. She did have family in an opera box, who were trying to get the fans to cheer her but it failed. Emma was out next in full heel mode. There was a fan with down syndrome that a lot of people stopped to hug but Emma straight dissed him. #EVILEMMA! She got in the ring and cut a promo about how Bayley has no friends and that this would be 2 on 1. Carmella came out to join Bayley. They did Bionic Elbows and Carmella revealed a Bayley shirt! Much like the opener, this was nothing but fun. All four girls worked hard, though Dana was the worst again. Carmella made Emma tap to her finisher to get the win.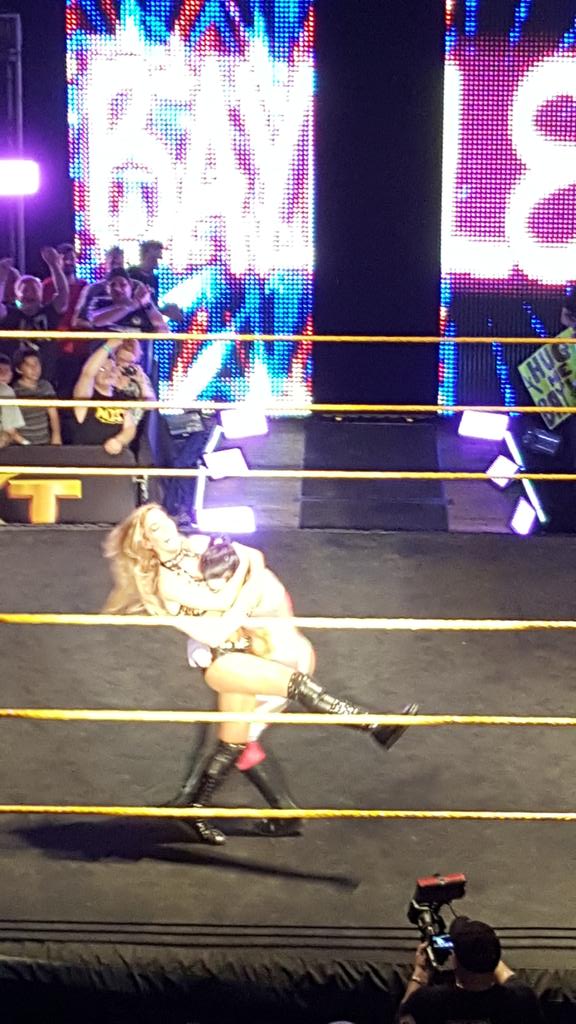 Intermission time. After that, we got three title matches. First, Blake and Murphy, with Alexa Bliss, defended against Mojo Rawley and Zack Ryder. BAMF didn't get much of a reaction, while Ryder was hugely popular and Mojo got booed. Another fun solid match here. Mojo got to kiss Alexa, who sold it like it grossed her out. Maybe it did, who knows? Ryder looked really good, like being with the NXT guys has rejuvenated him. Good to see that he's motivated or at least having fun. Blake and Murphy won with their finisher on Mojo.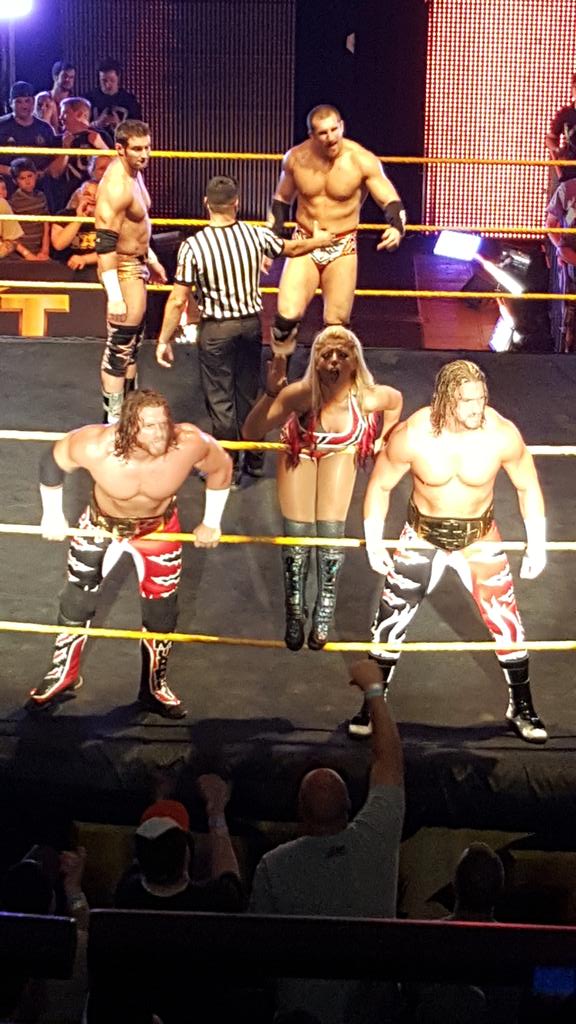 The NXT Women's Championship match followed. We all thought Becky Lynch would be involved, but surprisingly, she was absent from the show. Instead, we got the classic Sasha Banks vs. Charlotte match. I had yet to see it one on one live and it delivered. Great stuff as these two simply cannot have a bad match. Sasha was hugely over, especially when she hit some of her signature moves. They got the crowd standing when Charlotte had the Figure Four in, but didn't break it at Sasha reached the ropes. Instead she held on and crawled outside. Basically, she did the ring post figure four, but on the apron instead of the corner. Sasha retained with the Bank Statement. Match of the night so far.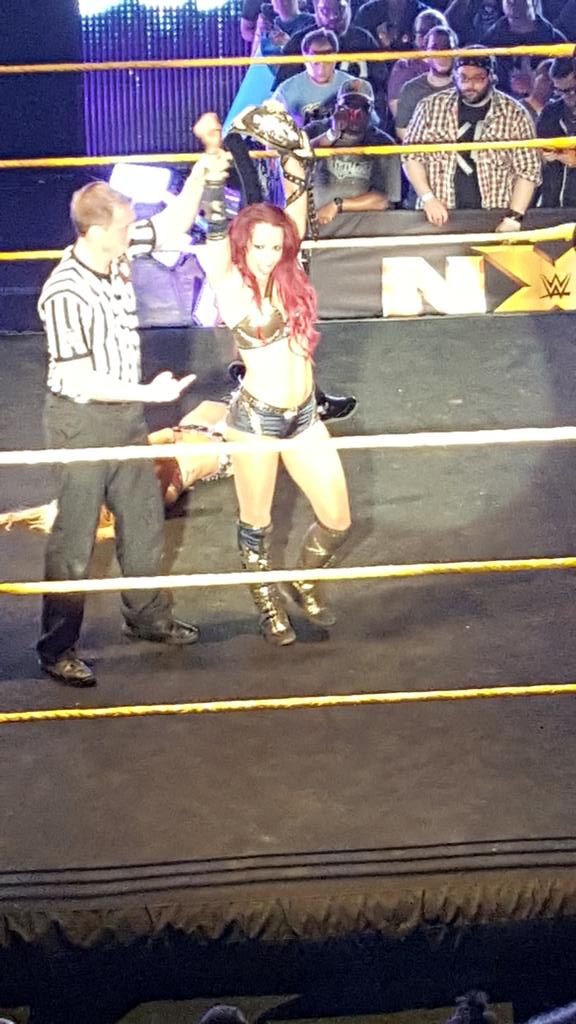 We got the main event from Pittsburgh the night before. Kevin Owens defending the NXT Title against Finn Balor, Samoa Joe and Tyler Breeze in a Fatal Four Way. In order of how popular everyone was goes like this 1) Owens, 2) Balor, 3) Joe, 4) Breeze. There was an "Everybody" chant. The fans sung "John Cena Sucks", so Owens got on the mic and said that soon, we won't see John Cena anymore. He was excellent here, exiting the ring instantly before attacking Joe. This led to them coming to blows to a huge pop. He was hilarious as he got Tyler to team with him. He told Tyler to suplex Joe at the same time that he suplexes Balor. Of course, Joe was too big for Tyler so Owens hit his and then looked at Tyler in disappointment. He shouted "FINE I GUESS I'LL HELP YOU" and they did a double suplex. Tyler didn't want to high five him because he's gross, but Owens made him. As the fans chanted "this is wrestling", Owens looked out and started applying to chinlocks to everyone who entered. He even put Finn and Tyler in a double chinlock. This was fast paced and never missed a beat. The finishing sequence was breathtaking. It would be hard to go into detail but it was ridiculous. Owens retained with a popup powerbomb on Breeze. After the match, Balor and Joe looked like they would fight, but Balor "too sweeted" him and stayed with the fans to close things.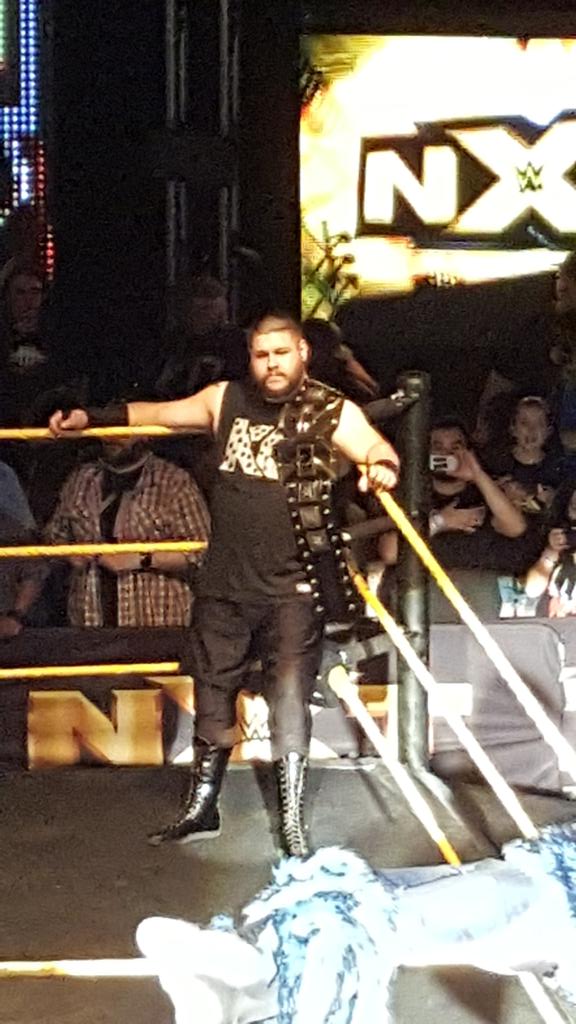 Overall, a really fun show. It only clocked in at just over two hours so it was shorter than I expected. That's probably for the best though considering how hot it was in the arena. Match of the night ended up being the main event.
Check out my Twitter, @the_kevstaaa for more photos.