5) WWE Championship: Edge (c) vs. John Cena (Unforgiven 2006):
The hottest feud in 2006 had to be the one between Edge and John Cena. Edge cashed in Money in the Bank on Cena at the start of the year before they would go on to wrestle at the Royal Rumble, SummerSlam and finally, Unforgiven. On this night, Edge had the clear hometown advantage as Toronto was on fire for him. There were even tears in his eyes during the intros because of the reception that he got. As usual, John Cena proved to be at his best when in hostile territory as he and Edge put on a great match with big spots. The biggest spot came at the end, when Edge took an FU off the ladder and through two tables, allowing Cena to bring down the belt after 25 grueling minutes.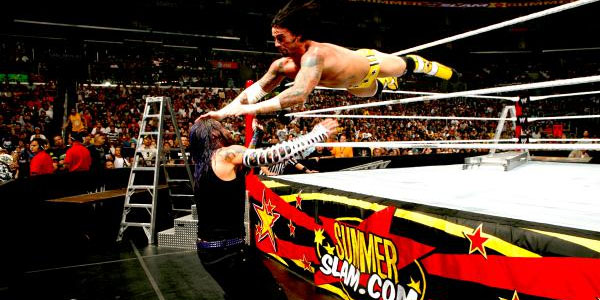 4) World Heavyweight Championship: Jeff Hardy (c) vs. CM Punk (SummerSlam 2009): I really loved this.
Much like Edge and John Cena, CM Punk and Jeff Hardy had the best rivalry in 2009. It also began with a Money in the Bank cash in as Punk did so on Hardy at Extreme Rules. Punk would then begin a slow heel turn and Jeff would win back the belt at Night of Champions. The Smackdown Title rarely got to main event, especially on the Big Four shows, but this went on last, even after DX and a Randy Orton/John Cena match. They made the most of it putting on a classic. It doesn't feature many memorable spots, but it's a well worked match where both guys looked strong. Punk pulled out the win here after 21 minutes, as Jeff was on his way out of the company.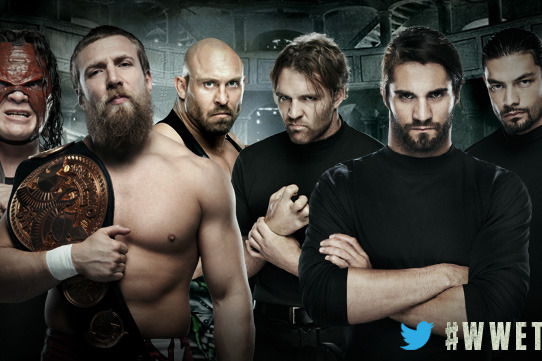 3) Team Hell No and Ryback vs. The Shield (TLC 2012):
In November 2012, The Shield made an immediate impact when they debuted and assaulted Ryback during a WWE Title match. The Shield would not make their in-ring debut though until the following month when Dean Ambrose, Seth Rollins and Roman Reigns met Ryback and the WWE Tag Team Champions, Team Hell No in a six man TLC, the first of its kind. All six men went to war with Seth taking a HUGE bump through a bunch of tables. The Shield would go on to win in 22 minutes, solidifying them as legit threats in the WWE; something that still holds true to this day. All three members have found great success. Seth Rollins held the Money in the Bank briefcase and the WWE World Heavyweight Championship. Dean Ambrose won the Intercontinental Title and Roman Reigns is already a three time World Champion and two time WrestleMania main eventer. It all started here.
2) WWF Tag Team Championship: TLC 1 (SummerSlam 2000): This happened on one of my favorite PPVs.
I bought it on DVD and used to watch it all the time so I've seen this match more than twenty times. It's still amazing. After stealing the show at WrestleMania 2000 in a Triangle Ladder Match, Edge and Christian, the Hardy Boyz and the Dudley Boyz would up the ante here. This is an absolute thrill ride and there are more memorable spots than I can name here. It was shorter than most TLC matches, clocking in at just under 15 minutes, but it doesn't slow down one bit the entire time. Fantastic stuff and Edge and Christian pull off the rare feat of retaining the gold in this match type.
1) WWF Tag Team Championship: TLC II (WrestleMania X-Seven): I
may have seen TLC 1 more times than I've seen TLC II, but I know which one is superior. If the ante was up after SummerSlam 2000, these three teams set the bar so high that nobody has come close to reaching it. Not only does this have the awesome high spots of previous incarnations, it also has the most memorable moment of all. Edge spearing Jeff Hardy while he dangles from the titles is still shown all of the time in tons of video packages. The six men in the match are incredible but so are Spike Dudley, Rhyno and Lita, who come out to help each team and add something to the match. Edge and Christian would prevail again, thanks to a big assist from Rhyno in about 16 minutes, stealing the show in arguably the greatest WrestleMania of all time.