Beginning Monday, July 18th, New Japan Pro Wrestling begins their massive annual G1 Climax tournament. The tournament has existed since 1974 but it became the "G1 Climax" in 1991.
It is done in round-robin format and features twenty wrestlers, split into two ten person blocks. Each wrestler takes on the other nine in their block once and the men who finish with the most points in each block meet in the finals. Two years ago, the 24th G1 Climax was the greatest wrestling tournament I've ever seen. The winner gets a shot at the IWGP Heavyweight Title at Wrestle Kingdom on January 4th, NJPW's WrestleMania. The tournament runs from 7/18 until 8/14.
EVIL
Kicking off the awesome looking B Block is a G1 Climax rookie, EVIL. I first saw him as Watanabe on ROH TV, where he was solid but didn't really stick out. Last October, he returned to NJPW as EVIL and became the first addition to Tetsuya Naito's Los Ingobernables de Japon stable. Since then, especially in 2016, EVIL has been getting better with almost each passing match. He and Hirooki Goto have been engaging in a hard hitting feud while he also had two great matches with Tomohiro Ishii this year. EVIL seems like the kind of guy that fits into the G1 style perfectly, as he's more than capable of a really great stiff match and should match up well with most of the guys in the guys in his block. I think he ends up in a similar position to his LIDJ buddy SANADA and finishes somewhere in the middle of the pack, but could be a sleeper as a top performer.
Prediction: 8 points
Most exciting matches: vs. Elgin (7/22), vs. Nakajima (7/27), vs. Naito (8/7)
Katsuhiko Nakajima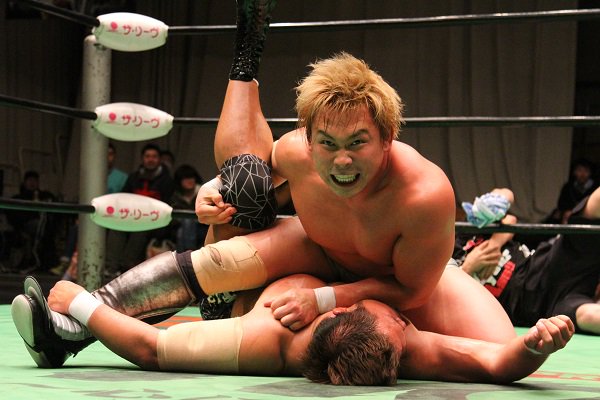 This is all kinds of tremendous. With the losses of AJ Styles, Shinsuke Nakamura, Kota Ibushi and Karl Anderson, the G1 Climax looked like it had the potential to suffer. Wisely, they looked outside for help and I'm incredibly excited about the addition of Katsuhiko Nakajima. I've seen him a few times in Pro Wrestling NOAH and he almost always delivers. At just 28 years old, he's one of the youngest men in the tournament (his first G1) and should produce almost nonstop good to great matches. I'm seriously excited to see him against literally everyone in the block. Now, I don't think he's going to finish way high in the scoreboard, but I wouldn't be against the idea. He is the future of NOAH but NJPW could use a guy like him as a star. It would be much better to see than Gedo relying on yet another gaijin. Nakajima is the truth and you'll see that here.
Prediction: 8 points
Most exciting matches: Literally all of them
Katsuyori Shibata
A perennial favorite for a long time now, this year seems like it could actually be the year that NJPW pulls the trigger on Katsuyori Shibata. His recent run with the NEVER Openweight Championship has been great and with it, he's earned the respect of the NEW JAPAN DADS. That ringing endorsement and door opened by the departure of top guys means this might be the best chance for Shibata. I do think that this should be his highest finish in the G1 standings since his return to NJPW. Honestly, I think the best decision would be to just have him win. The thing is, I don't see Gedo putting him to headline the Dome, so have Naito win the title shot from him at Destruction or King of Pro Wrestling, getting even more heat for Naito and showing us that those matches for the briefcase actually could see the shot changing hands. Alas, I don't think they'll do it. Shibata will win most of his matches, finish in second or third and continue to have the best matches on a nightly basis.
Prediction: 12 points
Most exciting matches: Again, literally all of them. What can I say? I like Shibata
Kenny Omega
Our third G1 rookie in this block. To start 2016, it looked like Kenny Omega was on a clear path to being the next big NJPW gaijin. He pinned Shinsuke Nakamura, turned on AJ Styles, took over as Bullet Club leader and beat Hiroshi Tanahashi for the IWGP Intercontinental Title. Unfortunately for him, his star seems to have fallen off a bit. He dropped the IC Title and lost the NEVER Openweight Six Man Tag Titles twice. He enters the G1 as a man without a title. Maybe his over the top campiness is hurting him. I think Gedo loves him though and he'll be a safe bet to finish second or third in his block. Thee are a few intriguing matches for him in the block though he's one of the guys I'm not really looking forward to. I expect some good matches, hell, maybe even a standout or two. He'll most likely be competing for the IC Title at Wrestle Kingdom 11.
Prediction: 12 points
Most exciting matches: vs. Honma (7/27), vs. Shibata (8/4), vs. Naito (8/13)
Michael Elgin
Last year, Michael Elgin was picked to work the G1 Climax and people groaned everywhere. He'd fallen out of favor with American crowds. Elgin's dream was to wrestle in Japan though, so he made the best of it. He was one of, if not the most consistent performer in the G1 Climax last year and did well enough to not only earn a contract with NJPW, but got way over with the crowd. Using that, he teamed with Hiroshi Tanahashi, won the NEVER Openweight Six Man Tag Team Titles and most recently, captured the IWGP Intercontinental Title. I love his inclusion in this block specifically as we should get some barn burners from him. The G1 style is perfect for him as his biggest issues over in the states was trying to have epic, overly long matches, but the short G1 format is perfect for him and he kills it there. It should happen again this time around and he'll be near the top of the standings as IC Champion.
Prediction: 12 points
Most exciting matches: vs. Naito (7/24), vs. Shibata (7/27), vs. Nakajima (8/13)
Tetsuya Naito
The first B Block member to actually have won this tournament in the past. Tetsuya Naito won it in 2013 in the midst of a failed mega babyface push. Last year, he reinvented himself, leads Los Ingobernables de Japon and ended up winning the IWGP Heavyweight Title earlier this year. They took the belt off of him, despite being red hot, to put it back on Kazuchika Okada again. Everyone expects Okada/Naito to headline Wrestle Kingdom 11 after being pushed to the semi-main event slot at WK8. I suggested a really good heel way to do that earlier but I find it doubtful. Naito is my pick to not only win the B Block, but to win the entire G1 Climax. I suspect he has some very good matches during the tournament since he's in such a groove right now. I predict he loses to Shibata and maybe Elgin or even a Yano, but he beats Tanahashi in a 2013 finals rematch.
Prediction: 14 points
Most exciting matches: vs. Shibata (7/30), vs. Honma (8/1), vs. Nakajima (8/4)
Tomoaki Honma
Thanks to an injury to Kota Ibushi in 2014, Tomoaki Honma got to replace him and begin what has become a fantastic G1 Climax journey. Honma went winless in the 2014 G1 before nearly doing the same last year. However, in his second to last match, he defeated Tomohiro Ishii for his first G1 win in front of a molten Korakuen Hall crowd. HONMAMANIA RAN WILD! With his initial win out of the way, I'm curious to see how he gets booked here. Does he go winless again? Does he only get one win again? Without his rival Ishii here, who does he beat? It's a tough call to be honest and he's probably the hardest guy to predict in the end. Honma has been doing better in singles action since then but not by much. Maybe he gets two wins and four points this time. I'll go with that.
Prediction: 4 points
Most exciting matches: vs. Shibata (7/22), vs. EVIL (8/4), vs. Nakajima (8/7)
Toru Yano
"The Sublime Master Thief" is at it again. Currently one half of the GHC Tag Team Champions with A Block's Naomichi Marufuji, Toru Yano has been a staple of the G1 Climax lately. He's a really good guy to have around because of his penchant for flash wins. He is the guy that tends to stop a hot streak (Takahashi in 2013, Shibata in 2015) and it doesn't really end up hurting who he beats because of how he does it. Put it this way. Yano could hit a powerbomb or something, and the crowd won't react for the pin, but if he low blows someone, they'll believe it. He plays his role so well that they know if he wins, it'll be something underhanded and that's fine. Yano tends to hove between 6 and 10 points when he's in the G1. I'm tempted to say he gets eight, but his block might be a bit too loaded for that. I'll say he finishes with six but could totally see him getting a fourth win somewhere.
Prediction: 6 points
Most exciting matches: vs. Nakajima (7/22), vs. EVIL (8/10), vs. YOSHI-HASHI (8/13)
YOSHI-HASHI
Here we have our final G1 Climax rookie. YOSHI-HASHI is a member of the Chaos stable but has always been second-tie. While Okada, Ishii, Nakamura and even Yano would get the shine, he was the heavyweight of the group that could take the pinfall losses in all of the NJPW undercard tag matches. Last year, he had a strong match with Michael Elgin during the G1 Finals but this year, he's kind of taken off. He's racked up plenty of pins in the multi-man tags and has engaged in a really fun rivalry with SANADA during the awesome Los Ingobernables de Japon vs. Chaos feud. Seeing him and his pimp cane get a chance in the G1 Climax will be pretty cool and certainly well deserved. Like EVIL, he should finish in the middle of the pack and have some very solid matches.
Prediction: 8 points
Most exciting matches: vs. Nagata (7/27), vs. EVIL (7/30), vs. Naito (8/10)
Yuji Nagata
BLUE JUSTICE! The ageless wonder, Yuji Nagata, is our final G1 Climax participant. Nagata has a long list of accolades in his legendary career, including a G1 win way back in 2001. His 2016 has been really good, having some badass matches with Katsuyori Shibata and going toe to toe with him during tag matches. Nagata certainly still has a fair amount left in the tank and is almost a guarantee to have some great matches this year. Like last year though, he most likely won't find himself near the top of the standings. I believe he'll be towards the bottom half and hovering around six points, but each match he has is sure to have a hot crowd and be full of energy.
Prediction: 6 points
Most exciting matches: vs. Naito (7/22), vs. Nakajima (7/30), vs. Honma (8/13)