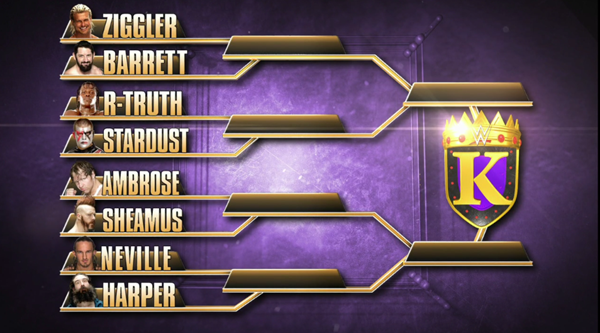 Some of the coolest news coming out of Extreme Rules had to be the announcement of the return of the King of the Ring. First Round matches would happen on Raw, with the Semi-Finals and Finals on the WWE Network tonight. I'll be reviewing that as well. Raw opens with Seth Rollins coming out to brag about retaining last night. He takes some shots at Kane, who gets pissy. Randy Orton shows up, claiming that because Seth won with the banned RKO, he deserves a rematch. Roman Reigns also appears saying that after his win against Big Show, he deserves it. Kane will let the WWE Universe decide and tonight's main event is Reigns and Orton against Seth and Kane. Yawn. The actual KOTR Tournament begins with Bad News Barrett taking on Dolph Ziggler. They had a fine match until Sheamus came out to distract Dolph. This allows Barrett to hit the Bull Hammer and advance. Not the best finish, but I like that Barrett advanced. King Barrett has a nice ring to it.
At Extreme Rules, The New Day shocked a lot of people and won the Tag Team Titles. It looks like they will defend them under the Freebird rule, which is pretty cool. Big E faced Tyson Kidd which had potential, but was booked to last less than two minutes. That made no sense. The finish, where Xavier Woods held Kidd's legs so Big E could pin him was fine, as was New Day's over the top celebration, I just wish it lasted longer. With us taking a break from the KOTR, we move into Ryback squashing Bo Dallas. After that, the lights went out and Bray Wyatt appeared to take out Ryback. This will be different, but I still feel like there is no direction for either guy really. Maybe Bray just wanted to help his brother. Continuing on, John Cena came out for the weekly Open Challenge but first he had to cut his usual promo of saying the crowd is hype and pumping Rusev/Cena IV at Payback. Heath Slater comes out to accept the challenge but is attacked during his promo by Rusev. Lana appears but Rusev kicks her out, drawing more heat than ever. Rusev just cuts a promo, says America a few times and his Russian flag drops down. Nothing we haven't seen before. That's the issue with this feud continuing. It's gone too long and isn't interesting at this point. Backstage, Seth Rollins complains about the WWE Universe getting to pick his opponent and gets in Kane's face, so Kane decides to make a third option where the fans can put Seth Rollins in a Triple Threat match against both Orton and Reigns at Payback.
The King of the Ring Tournament continues as R-Truth takes on Stardust. Considering the talent in this thing, these two shouldn't be matched up as some of the bigger names were better suited for the final four. They worked a solid, fun little match that R-Truth won. I do not understand why he would win though. In this week's "How the Fuck did this make it to Raw?" segment, Adam Rose faced Fandango. Fandango was in control throughout until Rosa Mendes' ugly ass appeared. She did some god awful dancing to distract Fandango, allowing Rose to win. Rosa made out with poor Adam Rose after the match. Why is any of this happening? I like mid-card feuds, but with guys that are actually talented and interesting. Backstage, Brie Bella is interviewed about Daniel Bryan's health. She plays the face role, for reasons unknown until Naomi attacks her.This leads into a rematch from Raw last week, Brie Bella vs. Naomi. The Bellas play face and again, we have no fucking clue why and no reason to cheer for them since none of this had any build. It was better than their match last week as Naomi seems to be growing into the heel role which is great. She won with a rollup and a handful of hair.
The third First Round match in the King of the Ring pitted Sheamus against Dean Ambrose. Michael Cole makes a dumb comment that Ambrose stole an SUV last night, which is incorrect since it was Luke Harper driving. I was loving this match until the finish. Ambrose and Sheamus both don't mind working a gritty style and that's what this was, making it feel different from the rest of the show. As they fought outside, Ziggler ran down to attack Sheamus and caused the DQ. Dolph looked like an idiot for doing something that helps Sheamus win. Also, should it have been Sheamus over R-Truth and Ambrose over Stardust so four bigger names advance instead of R-Truth? Whatever. Damien Sandow came out to cut a promo about how he isn't going to mock anyone more because he lost the respect of his peers. Curtis Axel is out to do his Hulk Hogan stuff, so Sandow takes him down and mocks Hulk Hogan. Why would you say you weren't going to do something and then do that something? It made no sense. We are then told that Kidd and Cesaro get their rematch this Thursday on Smackdown. We then get basic stuff from Bray Wyatt as he promotes his new feud with Ryback. I'm not excited for this at all. Our last First Round KOTR match takes place as Neville faces Luke Harper. Here is your match of the night as both guys worked hard and had a really good match. Harper is a great base for a guy with Neville's offense. Solid match which Neville won following the Red Arrow. Neville vs. Sheamus tonight should be really good.
Time for our main event, which got nearly twenty minutes. It wasn't bad, just something that isn't new in any way. The miscommunication between Seth Rollins and Kane continued, leading to Seth getting pinned again, just like he did on Smackdown. Why couldn't Kane just eat the pin? Whatever. At least it made more sense here than when Seth ate the pin on Smackdown for no reason. The fans choose the Triple Threat, which was obvious. The Champion looked like a bitch to close Raw. The King of the Ring itself could have been booked better, but it was the best thing about this episode. Everything that didn't involve the KOTR seemed to just be filler. Average episode of Raw, that could have been so much better. 6/10.