1) Kazuchika Okada: As a massive AJ Styles fan, this was disappointing to hear about but yes, he is no longer the IWGP Heavyweight Champion. That honor goes to the "Rainmaker" himself, Kazuchika Okada. Okada and AJ headlined Dominion and, from what I hear, possibly stole the show. Okada was able to pull out the win and recapture the IWGP Heavyweight Title from the man that ended his near 400 day reign back in 2013. Okada coming out on top was enough to earn him the number one spot this week. I have yet to see the match at the time of this writing, but will be doing so within the next day or two. I've heard people give it the full five star treatment and some consider it our match of the year. Regardless, this is a big deal for Okada, now in his third reign.
2) Finn Balor: The "Beast in the East" special was actually a blast to wake up and watch. Had it not been for Dominion, Finn Balor would have topped this list. Instead, he'll have to settle for a strong number two in such a loaded week. The WWE Network special was built around Brock Lesnar and the NXT Championship. The title match delivered in spades. Balor and Owens were treated like big deals, as was the NXT Title itself. Balor was in full "demon" paint and had a great match against Owens. It culminated with him winning the title in a pretty great moment. It was a great match, a great atmosphere, a historic moment and the biggest news coming out of the "Beast in the East" Absolutely awesome stuff.
3) Ethan Carter III: You know it's been a good week when you can win the top title in your company and come in third. Ethan Carter III has been the best heel in wrestling for a while, but of course it's not talked about as much because he's in TNA. While it's very possible that the company is a dying breed, EC3 has worked his ass off to prove that he is legit. I said it before and I'll say it again, he is the biggest missed opportunity I've seen the WWE have. He has all of the tools and it shows now that he has been given a chance. He beat Kurt Angle, rightfully, for the TNA World Heavyweight Title. The only reasons he didn't place higher is because the win wasn't clean and the level of importance of the wins by the guys that are ahead of him. Had he beaten Angle clean, he would have a strong case for the top slot.
4) KUSHIDA: Again, I haven't been able to take in all of Dominion just yet but this was big. In a week full of title wins, KUSHIDA had one of the coolest. Much like the Kazuchika Okada/AJ Styles match from Dominion, I've heard nothing but good to great things about KUSHIDA's victory over Kenny Omega. When he won the Best of the Super Juniors Tournament earlier this year, I noted how much I like the guy and this was pretty sweet. I'll be getting around to watching it soon. He is also set up for a match with Ricochet soon, which should be breathtaking. Add in that he was recently announced for GFW and KUSHIDA is kind of a big deal right now.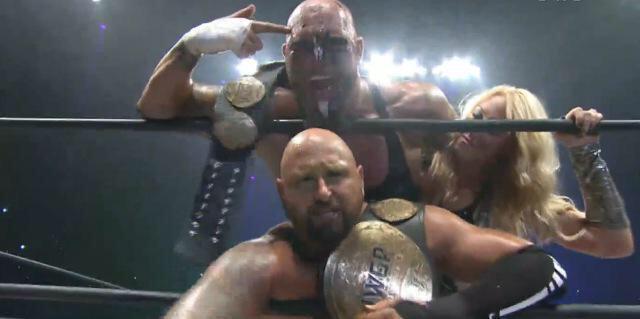 5) Doc Gallows and Karl Anderson: This has to be the only week I've ever done where every person or team on the list won a title. Here, we have the IWGP Tag Team Titles. The Kingdom took the straps from the Bullet Club back at Invasion Attack in April. Doc Gallows and Karl Anderson were able to win them back at Dominion. This now marks the third reign for the duo and fourth for the Machine Gun. It wasn't the most high profile title change on Dominion but it was certainly good enough to earn them a spot on this week's list.