Pretty simple list this week. With NXT TakeOver: London coming up and there being almost a year and a half of TakeOver events so far, I figured now would be a good time to do this. I rank what I consider to be the ten best matches at TakeOver events. I am not including NXT ArRival because, while being a WWE Network Special, wasn't under the TakeOver name. Also, Beast in the East's NXT Title match will not be included either.
10. Sami Zayn vs. Tyler Breeze – TakeOver 5/29/14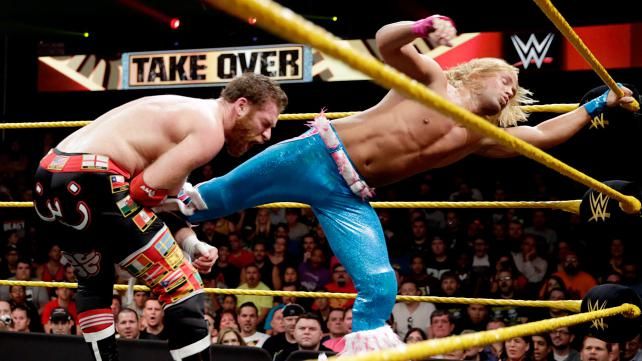 The only match on this list to take place at the first NXT TakeOver event. I honestly think the original plan was for Corey Graves to face Sami Zayn at this event. They had built up their feud for a while until Graves got another concussion. Tyler Breeze was thrust into this spot and I remember thinking that he wasn't ready. It was on this night that Breeze became a legitimate player in NXT. He kept up with Sami, who is widely considered one of the best in the world. The finishing stretch in this match was one of the best that I saw outside of New Japan in the past few years. Breeze won to become the number one contender for the NXT Title, while Sami got to continue the chase that he's so good at. Win/win situation.
9. NXT Championship Ladder Match: Finn Balor (c) vs. Kevin Owens – TakeOver: Brooklyn 8/22/15
Coming into this match, there was only one previous ladder match in NXT history. Adrian Neville beat Bo Dallas in a pretty good match at ArRival. This had to be better. This was the main event at the biggest NXT event in history. They had already competed for the title twice before. Once on NXT TV, where Kevin Owens retained and once at Beast in the East, where Finn Balor captured the title in Japan. This was the tiebreaker and it delivered. They had to follow a spectacular match and because of that, the early portions of this didn't have the crowd engaged like they hoped. However, they brought the crowd around with some really good work. Similar to the Dean Ambrose/Seth Rollins ladder match from earlier in the year, this wasn't your typical spotfest. It was a physical war that didn't need to rely on things like that while they still managed to wow the crowd at times. Finn retained in what proved to be Owens' final NXT match.
8. NXT Women's Championship: Charlotte (c) vs. Bayley vs. Becky Lynch vs. Sasha Banks – Takeover: Rival 2/11/15
Since May of the previous year, Charlotte reigned as the second Women's Champion in NXT history. Natalya, Bayley, Sasha Banks and anyone else who tried, fell to Ric Flair's daughter. Here, Bayley and Sasha got another chance, with the addition of the sometimes overlooked Becky Lynch. These are four of the best female wrestlers on the planet and they showed exactly why in this match. It only goes on for about twelve minutes but it never stops. The action is just insane as they do things that women in the WWE never dared try until this point. The false finishes, the underlying story of the Becky/Sasha friendship ending and finally, the crowning moment of Sasha Banks in the end. They didn't use the fatal four way to get the title off Charlotte without her getting pinned. Instead, Sasha pinned Charlotte to become champion and start the best women's title reign in NXT, no wait…WWE history. At the time, this was the best women's match I had ever witnessed.
7. Number One Contender's Tournament Finals: Adrian Neville vs. Finn Balor – TakeOver: Rival 2/11/15
In the case of a lot of other big NXT matchups, we've seen then multiple times. From Zayn/Owens to Zayn/Neville to Owens/Balor to Hideo/Breeze, they all got to meet more than once. This match, in the finals of a tournament to determine a number one contender for the NXT Championship, only happened once. Adrian Neville, two months shy of the best NXT Title run in history in my mind, facing Finn Balor, who just oozed the feel of the guy who would take over, pun intended. Balor rocked his trademark paint but Neville was not at all intimidated by it. That added something to this because the only previous time we saw the paint, it certainly affected the Ascension. Finn did some little things throughout that really showed how different he was when wearing the paint. I'd like more of that from him to really separate the demon from regular Finn. After some great back and forth action, including some heart stopping near falls, Balor won with the Coup de Grace, solidifying himself as the future of NXT.
6. NXT Championship: Sami Zayn (c) vs. Kevin Owens – TakeOver: Rival 2/11/15
The Brooklyn show was fantastic and bigger, but Rival gives it a serious run as the best TakeOver special. When your main event pits two former best friends in a war for the top title, and the two guys are as talented as Kevin Owens and Sami Zayn, you know you've got something special on your hands. This rivalry should honestly be one of THE decade defining rivalries by the time 2020 rolls around. They are that good. Like a good personal match should be, this was physical. It saw the badass, give zero fucks challenger do everything possible to hurt the champion. Owens didn't care if he ended the career of his friend because the title was all that mattered. We don't see things like this enough anymore. Zayn was at his best as the resilient babyface, kicking out of a lot but Owens just continued the beating until the referee stopped the match and awarded him the belt. A perfect way to set up the eventual rematches and keep both guys very over.
5. NXT Women's Championship: Sasha Banks (c) vs. Becky Lynch – TakeOver: Unstoppable 5/20/15
The first major TakeOver title defense for Sasha Banks came against her former Team BAE partner, Becky Lynch. I wrote an entire article about this match shortly after it happened and will be writing about it again in another list in the coming months so I won't go into too much detail here. To those that didn't know about her time as Rebecca Knox, you would think Becky was unproven and by WWE standards, she was. At the end of this match though, Becky was made. Sasha improved so much so quickly that she was able to already make another star just a few months into her reign. Both girls went after the arm with some vicious tactics and when Sasha finally made Becky submit, Becky didn't seem like a loser. The fans even sung Becky's theme as she sat in the ring crying. It's a damn shame that Becky didn't get a run with the NXT Women's Title and that she is wasting away on the main roster as nothing more than Charlotte's buddy. Now, up to this point, this was the greatest women's match I had ever seen.
4. NXT Women's Championship Ironman Match: Bayley (c) vs. Sasha Banks – TakeOver: Respect 10/7/15
After a classic in Brooklyn, fans clamored for a rematch between Bayley and Sasha Banks. They got it but the stakes were raised. Not only would this be the first female main event in TakeOver history, but it would be the first ever women's Ironman match. Going into it, I was a tad skeptical. Not because I doubted the skills of the women involved, but because Ironman matches can be hit or miss. While I loved some (Rock/HHH and Angle/Lesnar), I didn't care for others (HBK/Bret, Orton/Cena), despite the talented individuals. Well, outside of Angle/Lesnar, this was my favorite Ironman match ever. For thirty minutes, these two competed in probably the most brutal women's match in company history. From Sasha throwing Bayley into the stage to the usage of steel steps, this was certainly violent. They didn't overuse finisher kickouts and didn't have too many or too few falls. It came down to the wire, with Bayley utilizing a submission, something she didn't known for. Sasha wouldn't tap so Bayley stomped on her head until she did. Sasha was given an emotional sendoff to the main roster, leaving the division in the capable hands of Bayley.
3. NXT Championship: Adrian Neville (c) vs. Sami Zayn vs. Tyler Breeze vs. Tyson Kidd – TakeOver: Fatal-4-Way 9/11/14
The second of three matches from 2014 to make the cut. The main event of the first TakeOver show to have a subtitle saw the four top guy in NXT at the time go at it in a loaded main event. So much talent in one match might be why this was the weakest TakeOver event. Each guy got a pre-taped promo before the match, which really told you something about each of them, with Tyson Kidd's being the best. The main event itself had me on the edge on my seat. Everybody played their part and played it very well. After some heart stopping moments, it came down to a moment that continued the well told story of Sami Zayn chasing the title. He was so close, only for Adrian Neville to basically steal the pin and retain. Sami couldn't believe this and it led beautifully to their big match three months later.
2. NXT Championship: Adrian Neville (c) vs. Sami Zayn – TakeOver: R-Evolution 12/11/14
Easily the best story NXT has ever told. Since his arrival in NXT, Sami Zayn was pegged as a future champion but came up short several times. In a number one contender's match against Adrian Neville in late 2013 would be the earliest I can recall. A match that led to Neville dethroning Bo Dallas at ArRival, a show where Sami lost in the opener in a match of the year candidate. Zayn would lose another number one contender's match to Tyler Breeze and then come very close again in the Fatal Four Way match in September. Even in November, he got a one on one shot and lost because he was too nice and Neville was willing to do what it took to keep the belt. That all led to this main event match, which was damn near perfect. They called back to previous encounters in the best way. Zayn nearly used the NXT Title as a weapon, feeling he may need to do that to finally win. Instead, he stuck to his guns and ended Neville's reign on his terms. Just spectacular storytelling, athleticism, wrestling, drama and everything else you could think of.
NXT Women's Championship: Sasha Banks (c) vs. Bayley – TakeOver: Brooklyn 8/22/15 As you can probably tell from the list, NXT is absolutely THE place to find quality women's wrestling on television. They've made the TakeOver specials their ultimate place to shine and no two women did it better than Sasha Banks and Bayley on this night in Brooklyn. In front of the largest crowd to ever witness an NXT event, these two stole the show. Actually, they stole the entire weekend in Brooklyn, outdoing the likes of Seth Rollins, John Cena, Brock Lesnar, Undertaker, Shinsuke Nakamura, Jay Lethal, Finn Balor, Kevin Owens and tons more. I kept thinking the girls couldn't top themselves and then they would do it. From the entrances that saw Sasha coming out in an Escalade with security and Bayley wearing Dusty Rhodes' inspired gear to the slow build to the big finish, this was tremendous. The storytelling, the atmosphere, the emotion, the selling, the psychology and everything in between. Bayley hit a goddamn super reverse rana that nearly broke Sasha's neck. I've gone back and watched this match several times and my love for it hasn't wavered. It's the single best women's match I've ever seen.