5) The Miz on Randy Orton in November 2010; Raw:
When John Morrison and the Miz split, I was in the small group of people that knew Miz was going to be a bigger star and I am happy to say that I was right. In 2010, I was completely in on the Miz train. I loved his work as the United States Champion, as part of Show-Miz and with the briefcase. When he finally cashed in on Raw, it is something I remember clearly. He had talked so much about guaranteeing to become Champion that I was worried he'd cash in and lose, especially when he did so against Randy Orton, who wasn't in as bad shape as some of the other victims of cash ins. But they worked a short match, and Miz was able to win. The booking of his reign was shit, thanks to playing third wheel at WrestleMania and the awful Jerry Lawler, but Miz deserved this moment.
4) Dolph Ziggler on Alberto Del Rio in April 2013; Raw: Again, we got a lackluster run after a great cash in.
At the time, I was a big Dolph Ziggler fan and badly wanted him to win the World Title. He had just finished going over John Cena on Pay-Per-View to retain it, but I was upset to see him in a Tag Title match at WrestleMania. 24 hours later, he cashed in on Alberto Del Rio in front of one of the hottest crowds in history. The pop for his arrival and eventual title win is unmatched among cash ins. The short match with Del Rio was good and I loved his counter to the Cross Armbreaker. Special moment and it's unfortunate that his concussion derailed his run.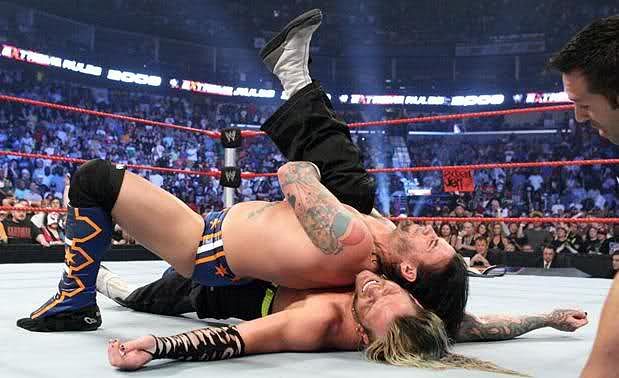 3) CM Punk on Jeff Hardy in June 2009; Extreme Rules:
Another personal favorite of mine right here. Based on shock factor, I think I enjoyed his first cash in better. However, it was still stunning that a face CM Punk cashed in on Jeff Hardy after a grueling ladder match. Unlike the previous two cash ins I listed, this one solidified Punk as a top guy. He and Jeff went on to have a great feud over the title. While the WWE still mishandled Punk at different times until he promo in Las Vegas, this changed things for him. It showed that his first win wasn't a fluke and set the stage for heel Punk, which was always my favorite.
2) Seth Rollins on Brock Lesnar in March 2015; WrestleMania: Man, this was very close to topping the list.
Cashing in during the main event of WrestleMania is a ballsy move, especially when the two guys at war were Brock Lesnar and Roman Reigns. Seth is another guy that I've been a huge fan of, since his days as Tyler Black in the Age of the Fall and Do It For Her. Seeing him leave WrestleMania with the top belt was an incredible feeling. The cash in was tremendous, perfectly timed and done by the right guy. Again, the WWE hasn't booked his reign perfectly, but it doesn't take away from the cash in.
1) Edge on John Cena in January 2006; New Year's Revolution:
Here we have a case of the original being the best. Unfortunately, I missed this moment live. It was at a time when I didn't care to order all 13 or 14 Pay-Per-Views the WWE was producing. I recall asking my friend at school the next day who won at the PPV and he said Edge. It confused me as, at the time, I still expected him to cash in for an actual match instead of when Cena was down. I've gone back and watched this countless times and it never gets old. Edge was the perfect Mr. Money in the Bank. This changed the game and sent the "Ultimate Opportunist" into the next level.